Disclosure: This is part of a sponsored collaboration with DiMeMedia and Disney Junior. However, all opinions expressed are my own.
I grew up in a time where having a pen pal was the coolest thing ever. I actually remember the day my teacher told our class all about it and set us up with kids from other countries to write to. I had the same pen pal for quite some time and we actually wrote back and forth to each other for years until this little thing called the internet blew up. We then went from writing letters to connecting online. Sadly, the majority of kids today don't know the excitement of receiving a handwritten letter in the mail.
My son is homeschooled and just this past week, I was actually teaching him about the different parts of a letter and envelope for his Writing Skills class and he did not understand why we couldn't "just e-mail people"… I'm actually really bad at e-mailing people back and usually write a quick answer, nothing else really. When I write on paper, my words seem to flow a little more naturally. The art of writing a handwritten letter can't be lost and it's up to us to teach our kids how fun it can actually be!
Disney Junior's Sofia the First is helping by encouraging kids to write her a letter and she will write them back! My nieces love Sofia the First! Every episode is either about friendship, bravery, courage, curiosity, creativity, and adventure, what's not to love? (I personally can't get enough of Clover!) We were obviously very excited to host a Dear Sofia Letter Writing Party and let the kids have fun writing letters to Sofia.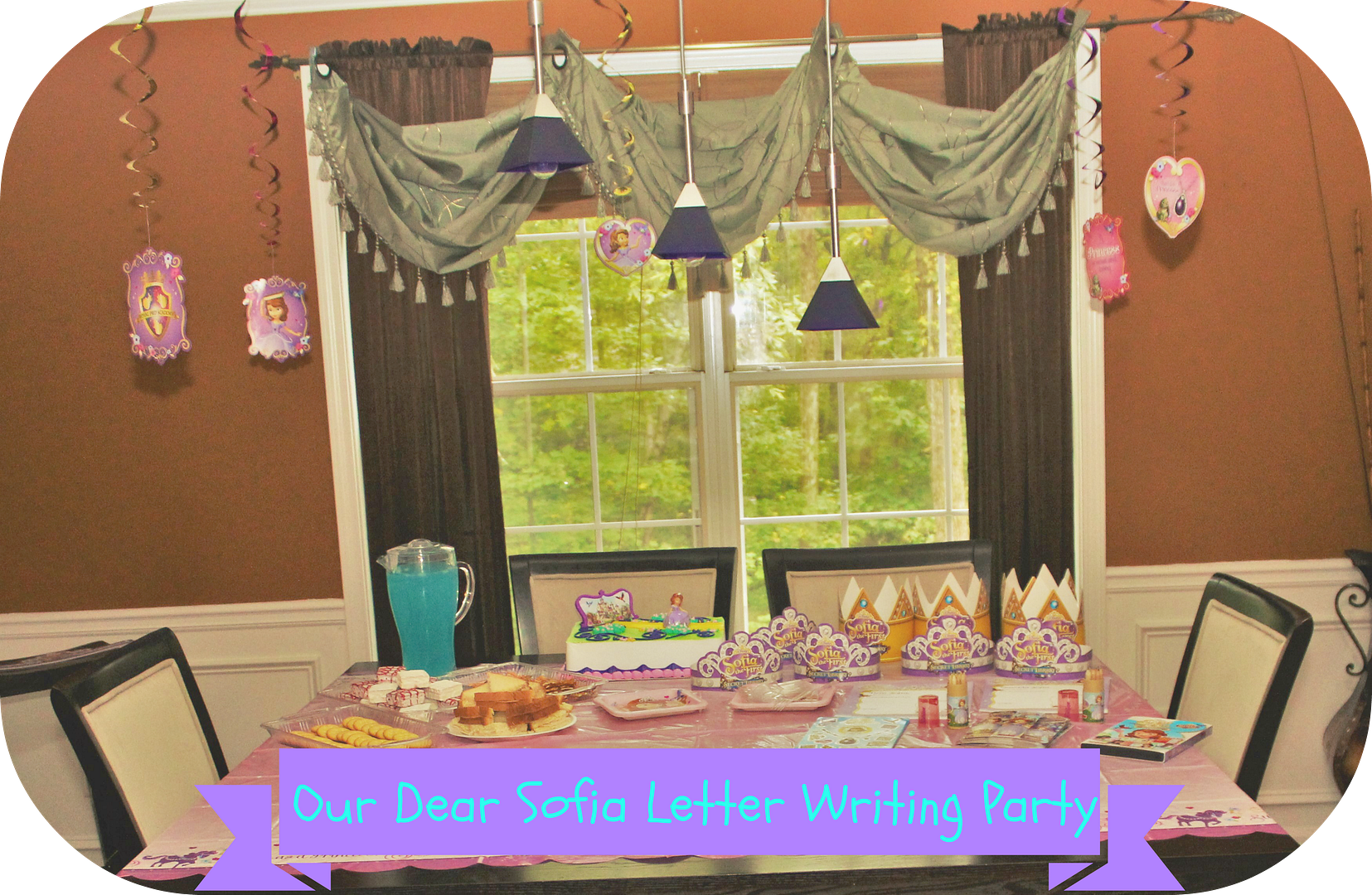 It was just my luck that on the week of the party, it rained every.single.day. The kids had no excuse to run outside! We picked a day after school to get together and since it was so close to dinnertime, we decided to keep it simple with just a couple of snacks.
We set up a couple of crowns and tiaras, stickers, bookmarks, colored pencils and paper to write to Sofia. While the kids were writing and eating, we had the Disney Dear Sofia: A Royal Collection DVD playing in the background.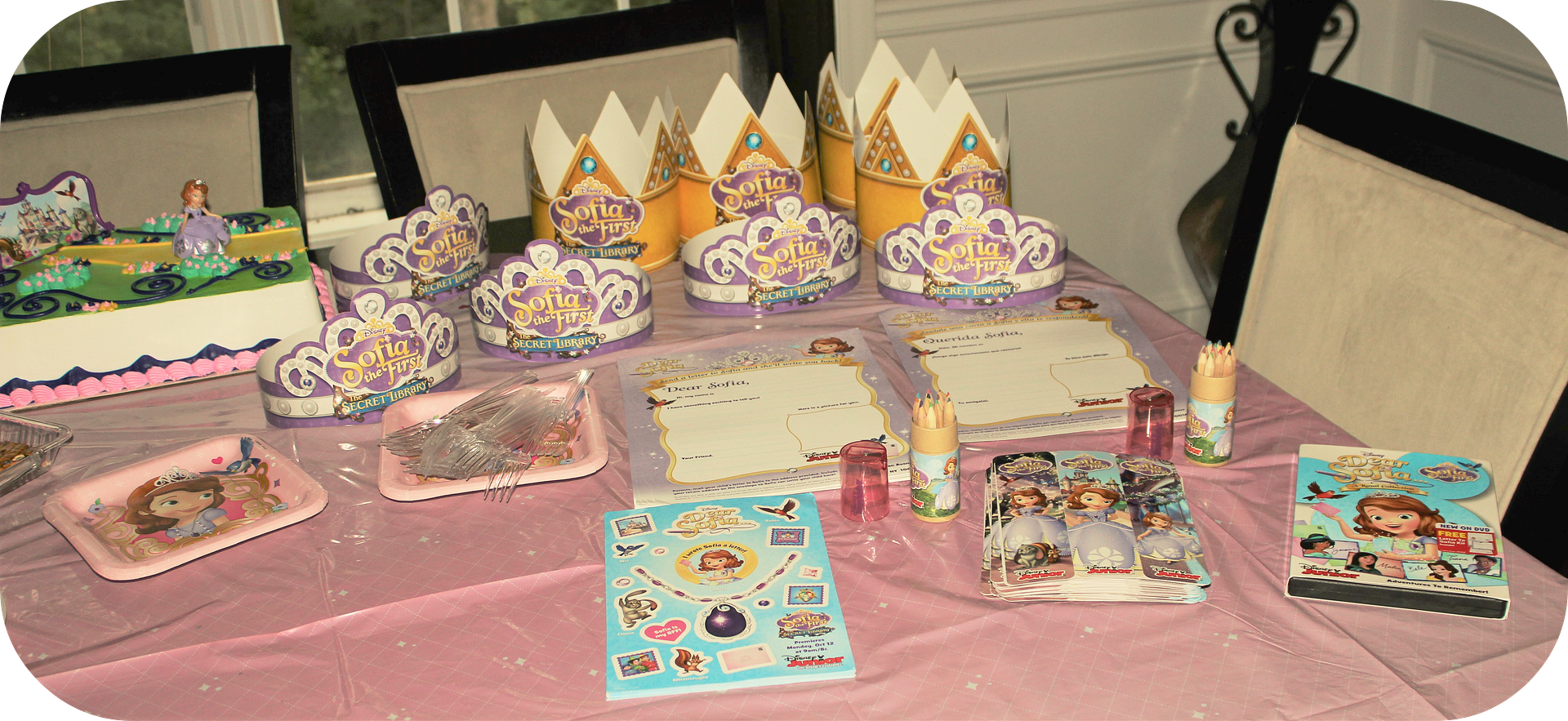 For snacks, we had mini fancy cakes, butterfly shaped pretzels, crackers and ham and cheese sandwiches along with some berry punch.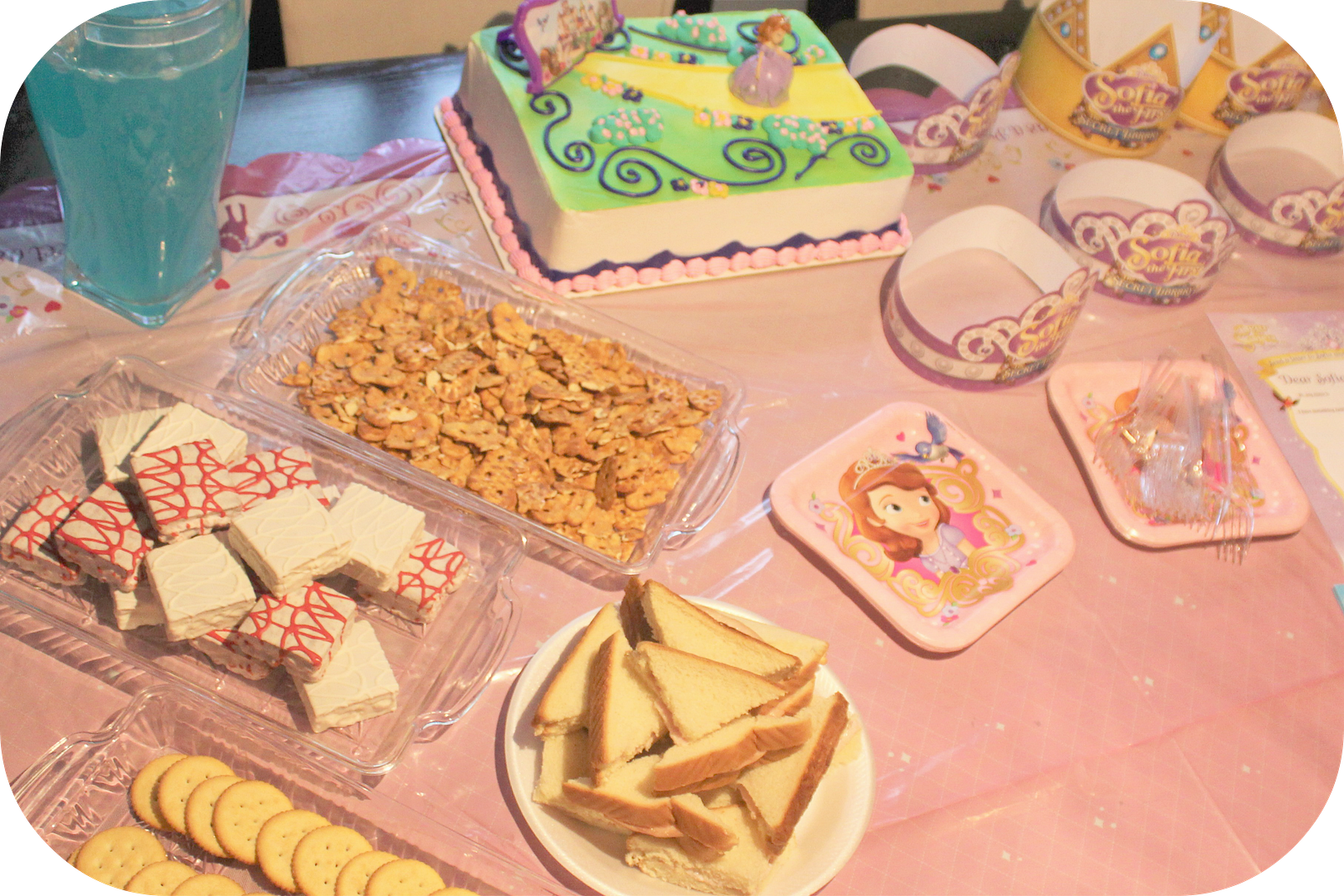 The kids had fun writing their letters and took turns reading each of their letters to each other. Apparently, a lot of them wanted to ask Sofia how she kept her cool with a sister like Amber.
While the food was on the simple side, we did indulge in a Tres Leches Sofia the First cake with fresh strawberry filling. Which thinking back on it, makes me hungry as I type because it was amazing!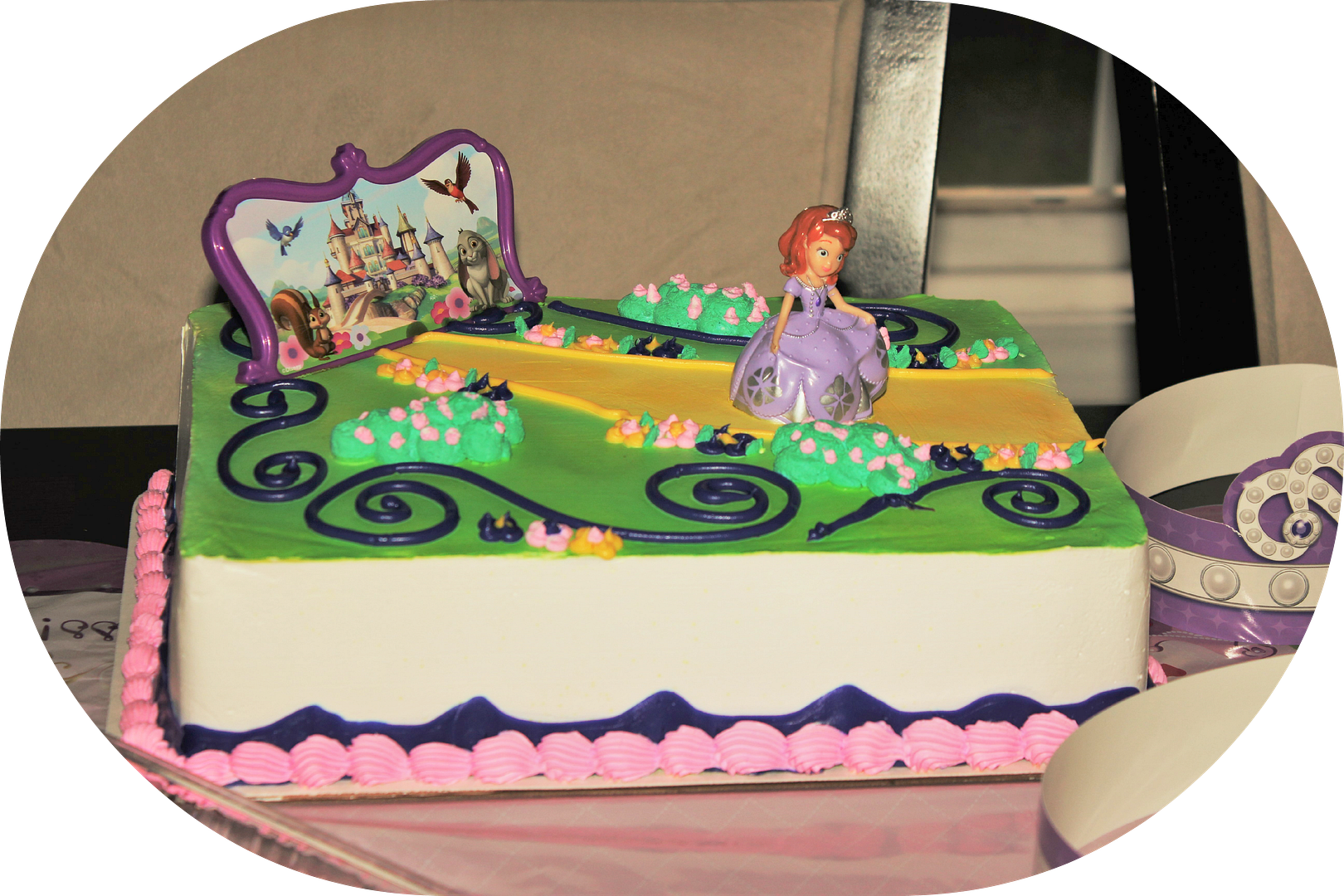 There was none of it left by the time the party ended!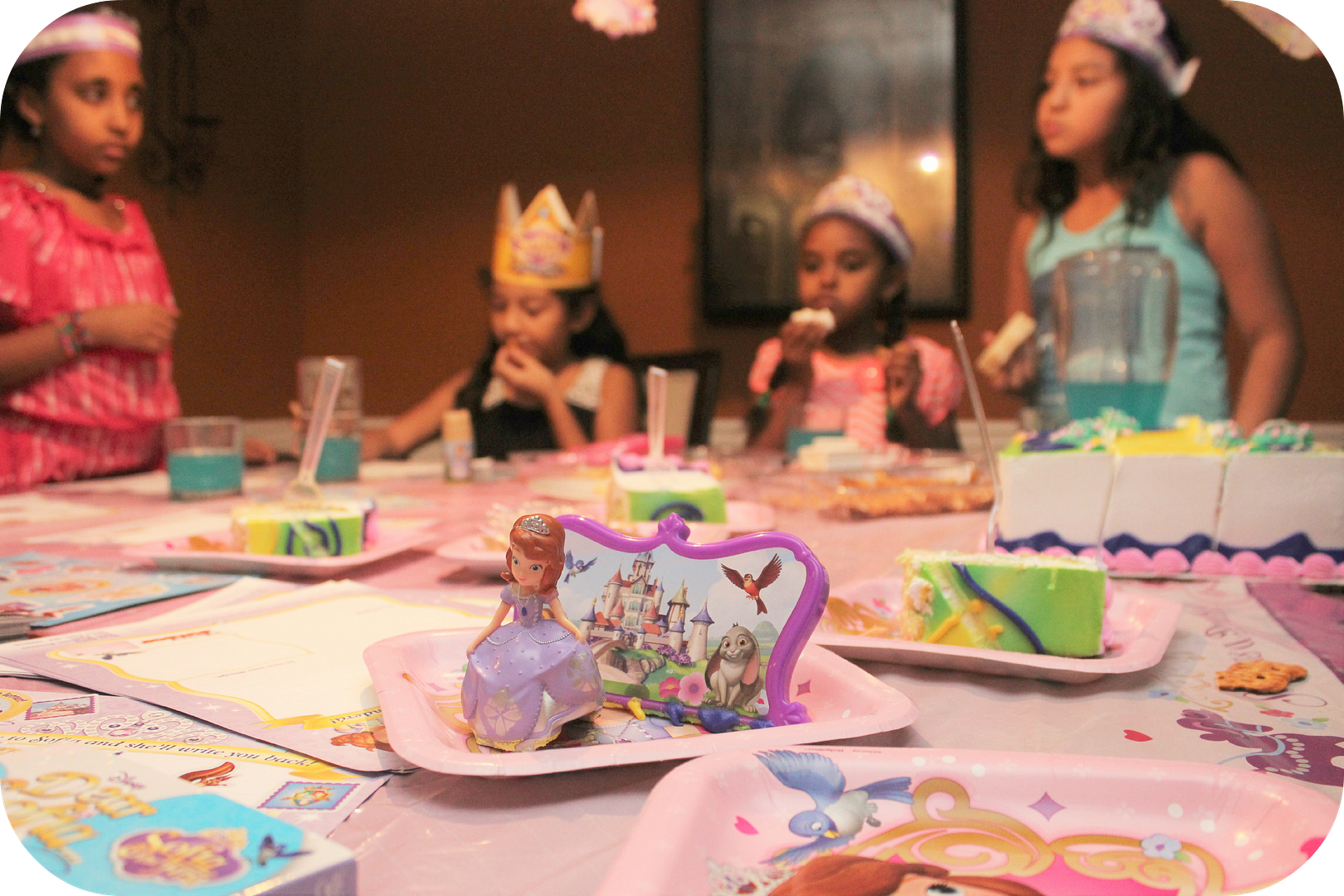 After everyone ate, we collected all of the letters and sent them off to Sofia. We can't wait to share when we get a reply back! If you follow me on Instagram, I'll be sure to share there! The girls had so much fun and I encourage you guys to host your own writing party to get kids excited about writing again – this is definitely a fun way to start!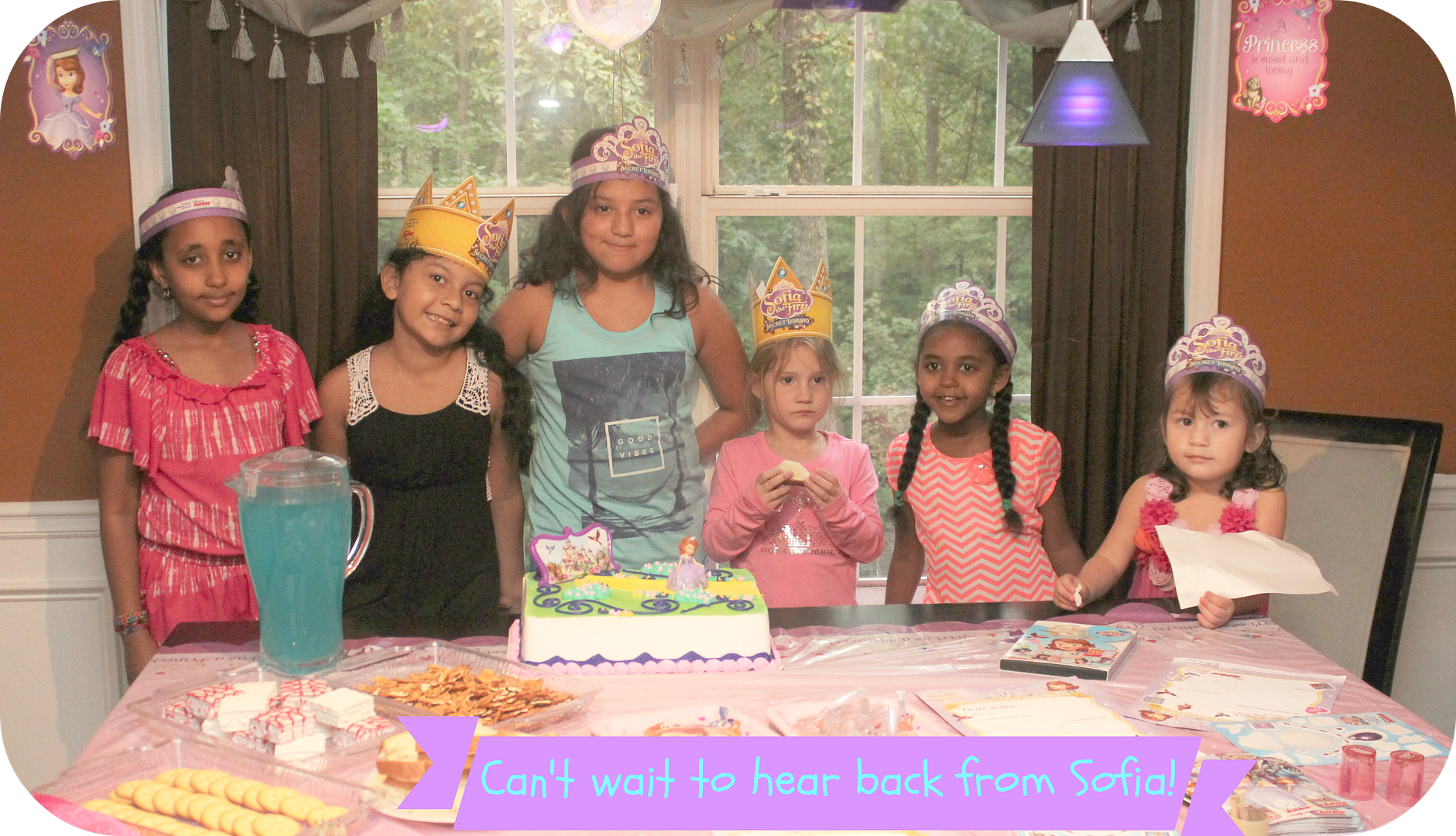 To write to Sofia, you can print out your own stationary at DisneyJunior.com/DearSofia. Have fun and get creative! Remember though, traditional mail can sometimes take a while and obviously, Enchancia is really far away but don't worry – Sofia will write back! Be sure to tune in to Sofia the First: The Secret Library, featuring a special appearance by Merida from Brave, TODAY – Monday October 12 at 9am/8c on Disney Junior on Disney Channel!