This is part of a sponsored collaboration with

DiMeMedia

and

Disney Junior

. However, all opinions expressed are my own.
My son and his cousins are usually attached to each other all summer, from sleepovers to just spending a day at home or out having fun, they love and look forward to spending time together. This summer, however, was a little different. I was pregnant and I could barely get out of bed, let alone have any energy to host any kids at the house for long periods of time. It was a long and lonely summer for my son, Adrian, but I told him that I would make it up to him once his baby sister came out. Well, it's been almost 3 months since I've had my baby girl and we are finally falling back into a routine. So I let little man invite people over and we got started on planning a mini back to school party with the Miles from Tomorrowland theme.
Getting the party set up was simple. We had a table set up with goodie bags, stickers, space helmets, and space mission activities inspired by Miles from Tomorrowland.
We were able to find ready made cupcakes with blue and purple sugar crystals and just added cupcake toppers. I think we got really lucky because the colors went well with the space theme.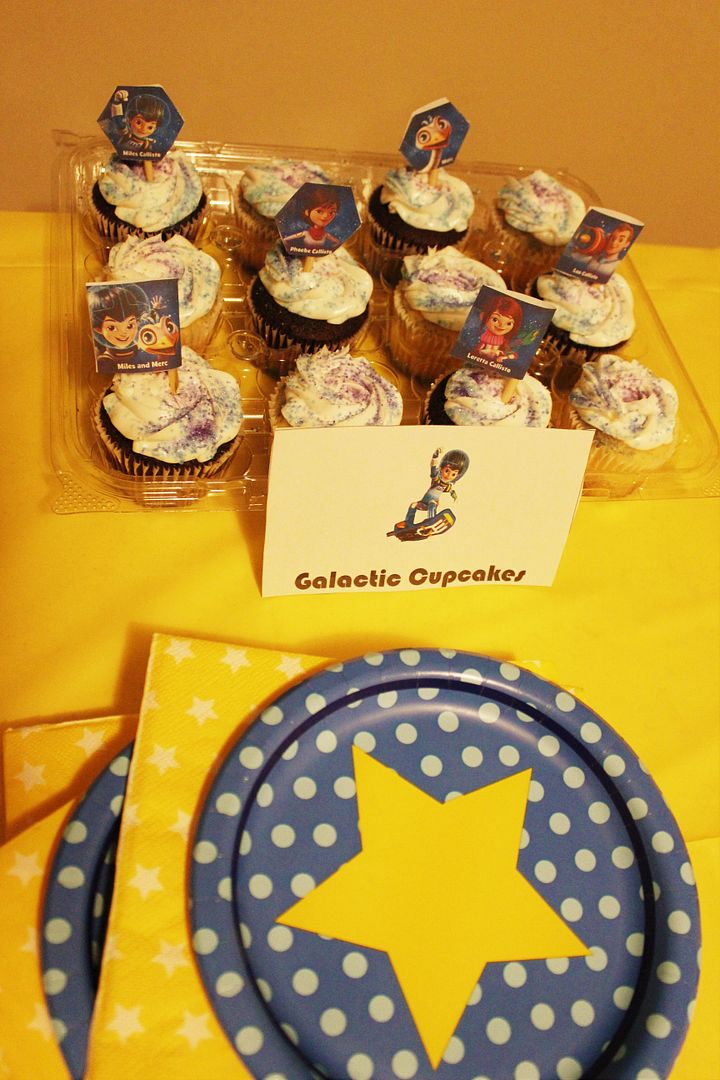 At the store, I let little man pick the snacks and he picked pretty much anything that reminded him of space. Some of the favorites that I had to keep refilling the pails for were for Cosmic Brownies, Star Crunch and Moon Pie Minis.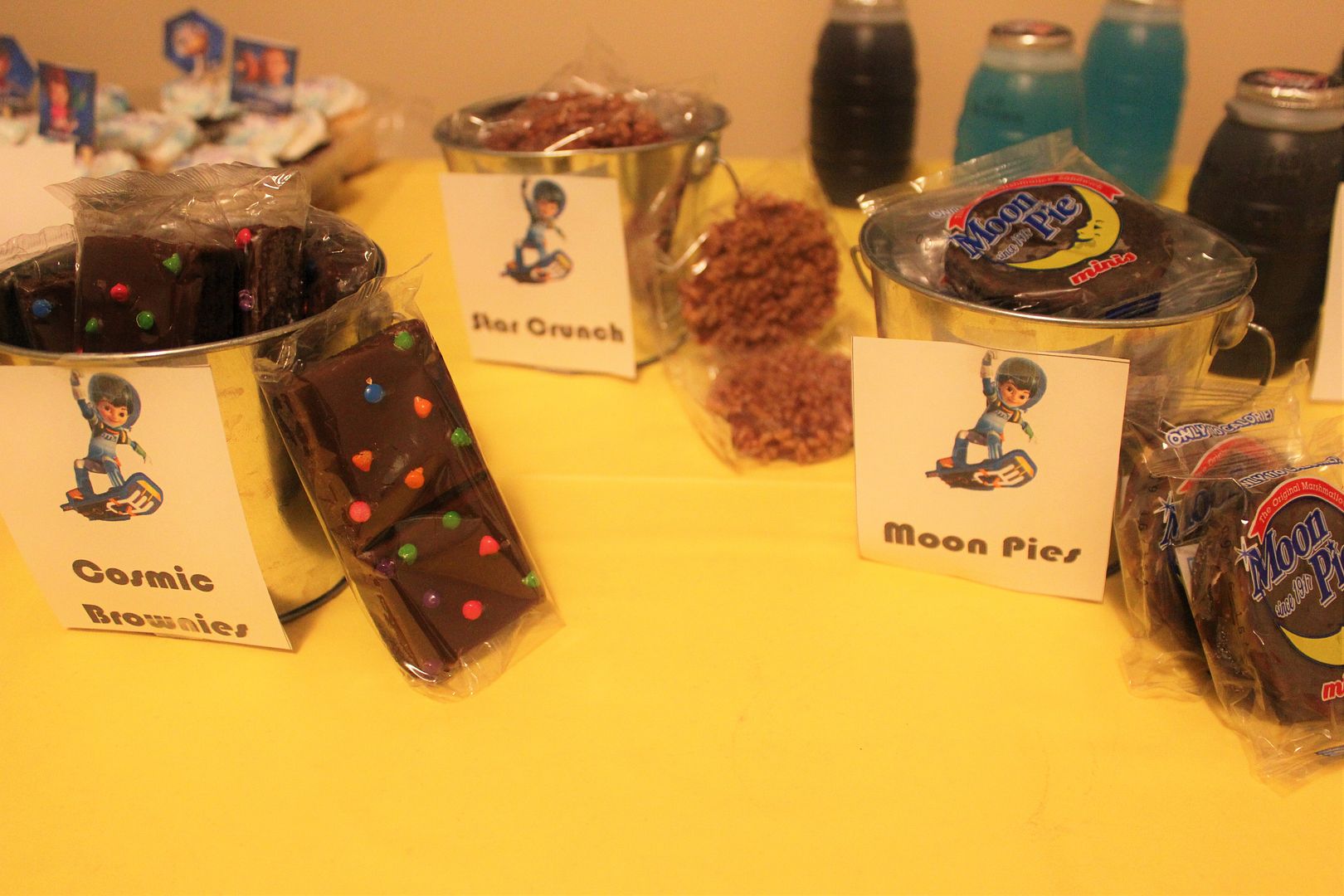 After playing around and everyone catching up with each other, we popped in a Miles from Tomorrowland DVD and snacked on some popcorn and "rocket fuel". 
After the DVD, the kids were excited to get started on Space Mission activities. Right now, if you take a picture of your kids with any completed Miles from Tomorrowland Space Mission activity and submit it, you can enter for a chance to win a VIP family trip to the Kennedy Space Center to see a rocket launch, meet an astronaut, and receive a 3D printer, virtual reality viewer and Miles From Tomorrowland toys!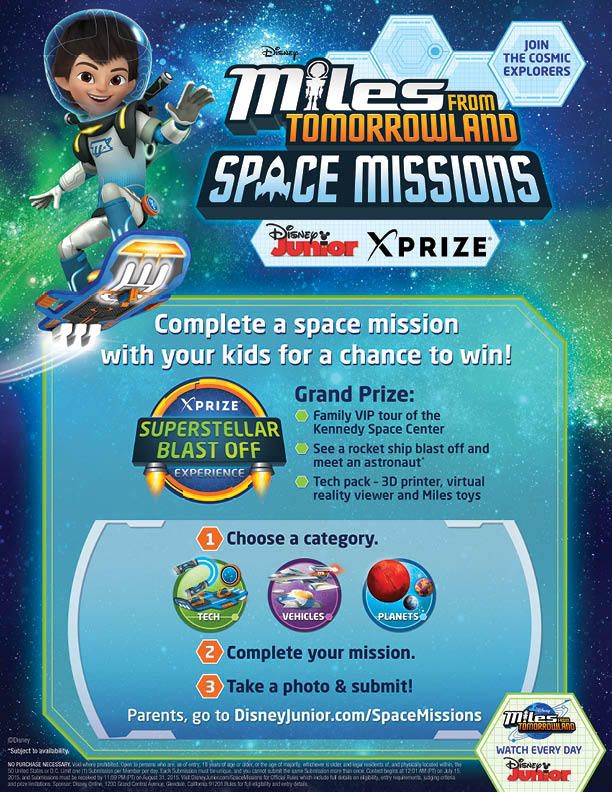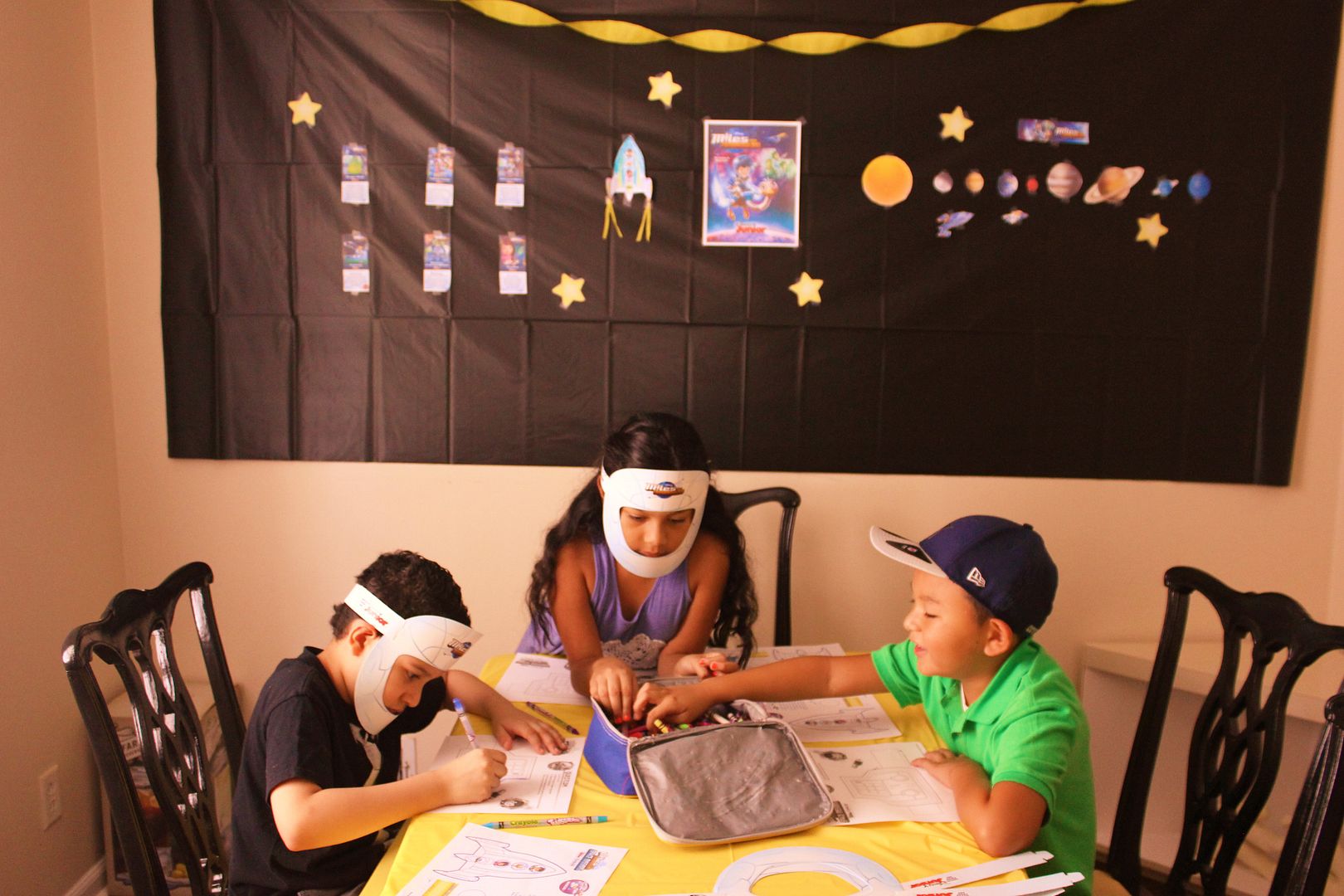 After learning about planets and having a discussion on why Pluto is no longer a planet, the kids took pictures with their finished activities and took turns taking pictures with their space helmets.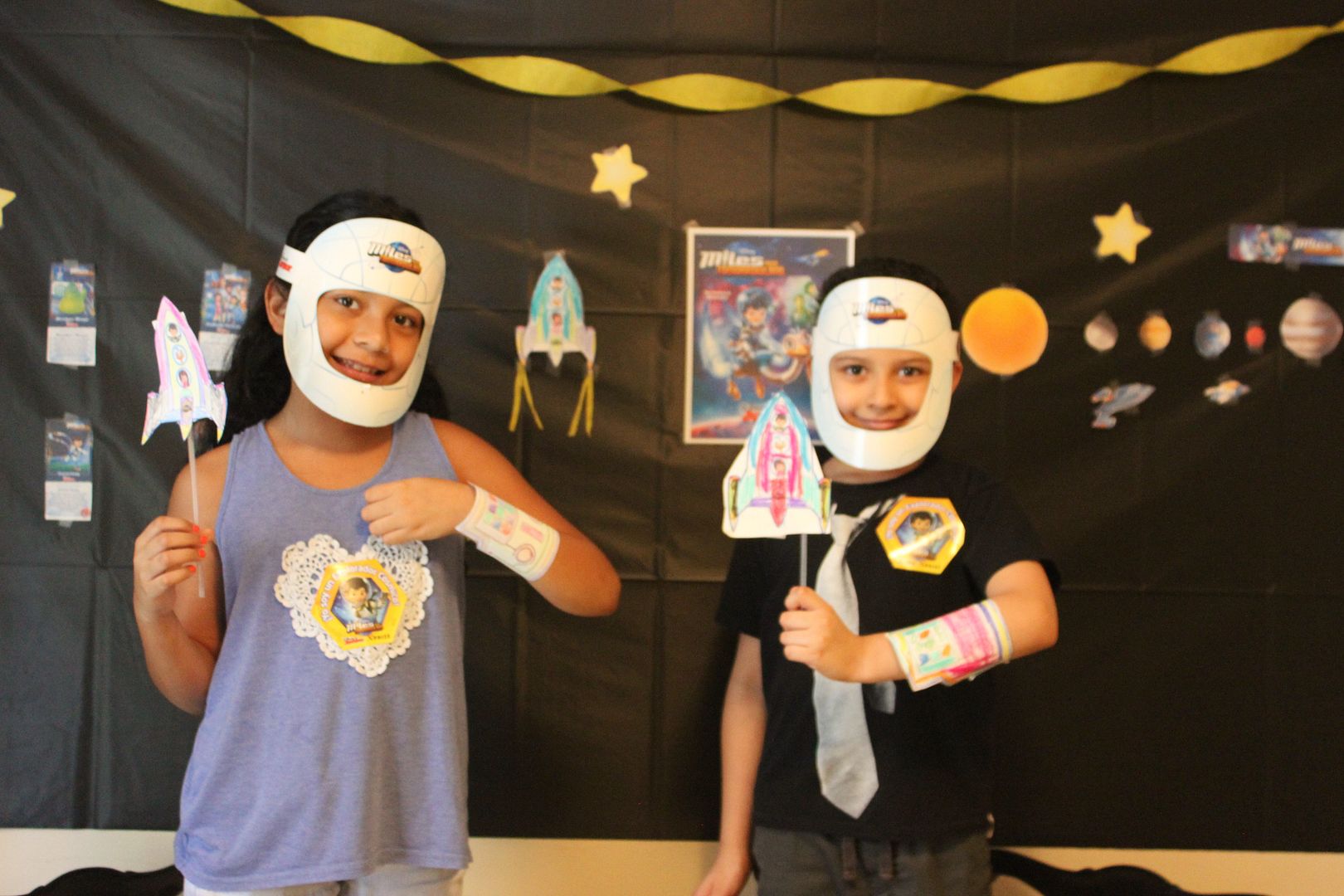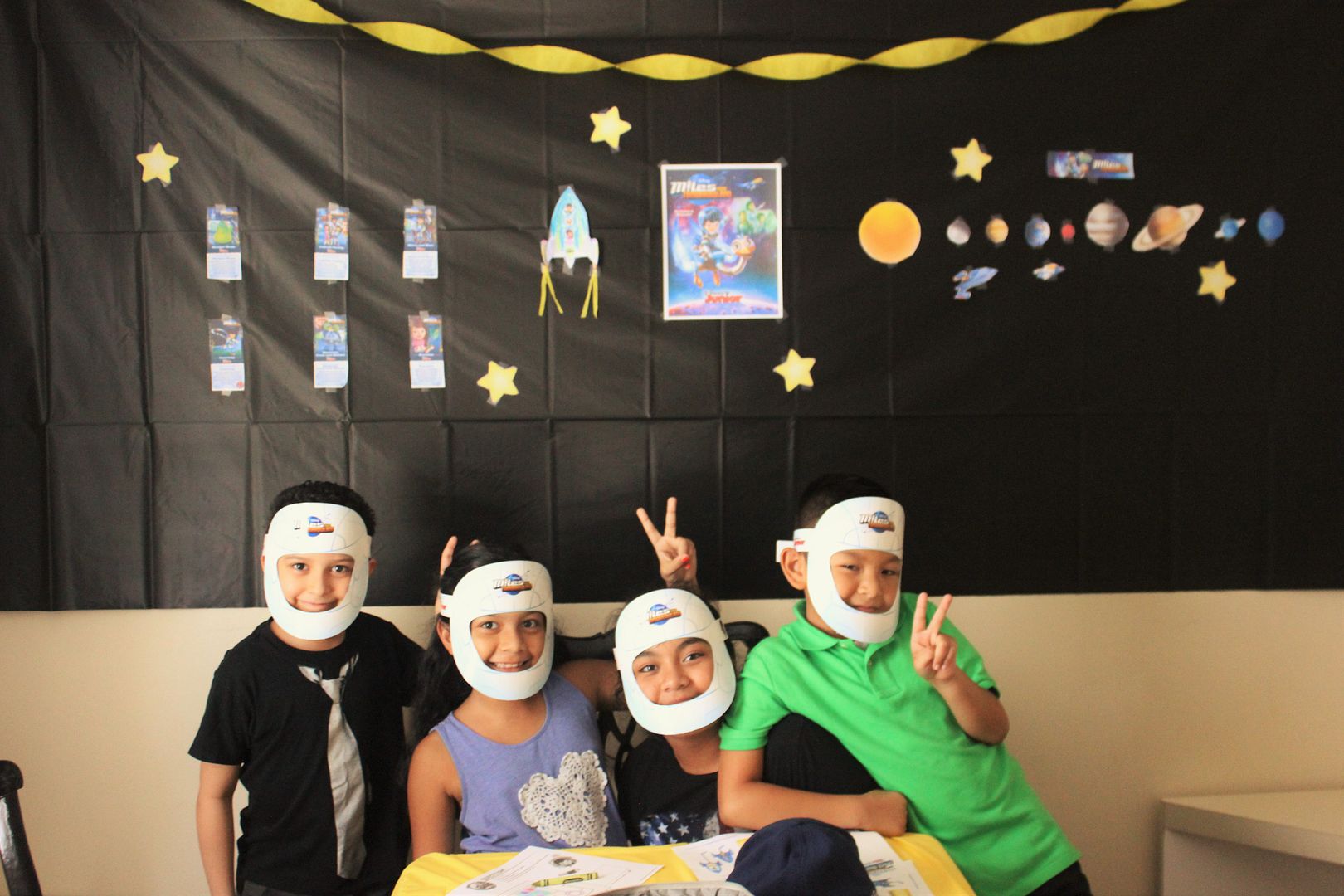 A bonus to this party was that on top of having fun, they learned about planets and the various space tech and vehicles available. They're all super excited for the premiere of Miles from Tomorrowland Space Mission: Mars, which you can see on Saturday, September 19th on Disney Junior on Disney Channel and they're anxious to know if they've won. Hey, you never know unless you enter! Entries for the Miles from Tomorrowland Space Missions XPrize can be submitted until Monday, August 31.
To celebrate the premiere of Miles from Tomorrowland Space Mission: Mars, and for a chance to win more amazing prizes, be sure to join us for a Disney Junior Twitter party. Grab your little cosmic explorer, some breakfast, and follow the #MilesFromTomorrowland hashtag on Twitter and join us as we tune in at 8:30 am EST  on September 19 for Miles' latest adventures with his family. It's going to be blastastic with awesome prizes so we hope that you'll join us for some intergalactic fun!