Disclosure: I was sent the following DVD for review purposes only. However, all opinions stated are 100% my own!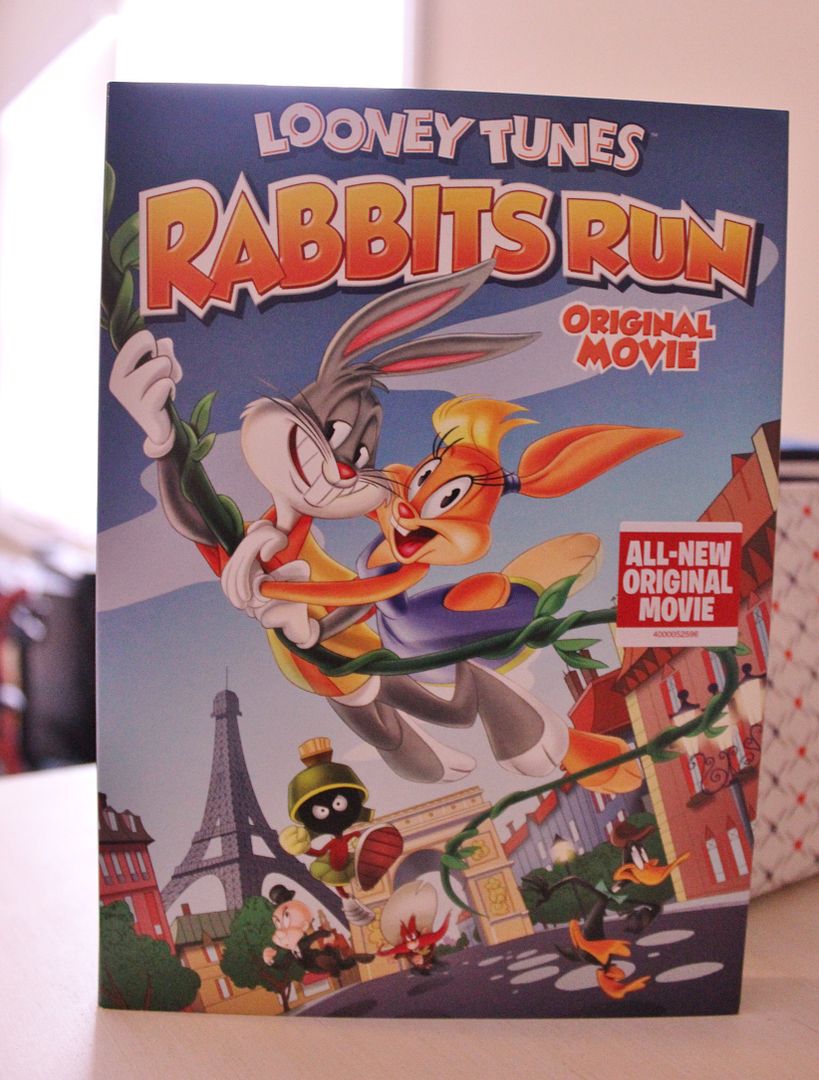 Warner Bros. Home Entertainment is set to release an all new original movie – Looney Tunes Rabbits Run – that includes everyone's all-time favorite Looney Tunes Characters on August 4, 2015!
The DVD Includes:
The Movie + Bonus Cartoons:
Best Friends
Coyote Falls
Fur or Flying
Rabid Rider
I Tawt I Taw a Puddy Tat
About the Movie:
In Looney Tunes Rabbits Run, Bugs Bunny is a New York City cabbie who picks up the beautiful but bumbling perfume salesgirl, Lola Bunny, after she's lost her job at a department store. Bugs, who drives Lola home from work in his taxi, has no idea he's about to embark on the longest ride of his life!

In her spare time, Lola is an amateur perfume maker who's convinced one day she'll concoct the world's most beautiful fragrance and sell it to the House of Moufette in Paris. Unbeknownst to Bugs, Lola, in one of her attempts to create the next big fragrance, has inadvertently invented an invisibility spray, and now the whole world is on their tails to steal her precious concoction!

On the run to Paris, Bugs and Lola must outsmart everyone from government officials, to Lola's greedy department store boss, Giovanni and even Yosemite Sam, all of whom are after Lola's "scent-sational" invisibility spray. Will Bugs help Lola thwart the bad guys and help her realize her dream of launching her own signature fragrance line? It's a heart-stopping, looney adventure that animation fans won't want to miss! Joining Bugs and Lola is a lineup of favorite Looney Tunes characters including Speedy Gonzalez, Elmer Fudd, Daffy Duck, Pepe Le Pew, Foghorn Leghorn and many others.
Our thoughts on the movie:
My husband and I used to watch the original Looney Tunes when we were younger and most recently, my son and I would see the Cartoon Network version together. Needless to say, we were really excited to see this movie! We weren't disappointed! My son wouldn't stop laughing and wouldn't stop talking about it for a couple of days – telling his cousins and anyone who would listen how funny it was. My son is 7 years old and knows the difference between real violence and cartoon violence but we always have a small talk before just to make sure. Whether or not it's appropriate for your child to watch, depends on your child and if you think they can handle Looney Tunes humor. The movie leans more towards the Cartoon Network version of the Looney Tunes show rather than the old but it was just as funny to us. Daffy Duck was our favorite! He had us laughing the whole time. This is definitely a fun movie to have for Looney Tunes fans – new or old. Be sure to get it on DVD once it hits stores on August 4th!