On July 31st, the much anticipated Disney Channel Original Movie, Disney's Descendants, will finally premiere.
The movie starts off in a present day idyllic kingdom where Ben, the teenaged son of the King and Queen (Beast and Belle from Disney's"Beauty and the Beast"), is poised to take the throne.  His first proclamation is to offer a chance at redemption to the trouble-making offspring of Cruella de Vil, Maleficent, the Evil Queen and Jafar – all who have been imprisoned on a forbidden island with all the other villains, sidekicks, evil step-mothers and step-sisters. The villainous descendants (Carlos, Mal, Evie and Jay) are allowed into the kingdom to attend prep school alongside the offspring of iconic Disney heroes – which include the Fairy Godmother, Sleeping Beauty, Cinderella and Mulan. However, the evil teens face a dilemma. Should they follow in their parents' footsteps and help all the villains regain power or embrace their innate goodness and save the kingdom?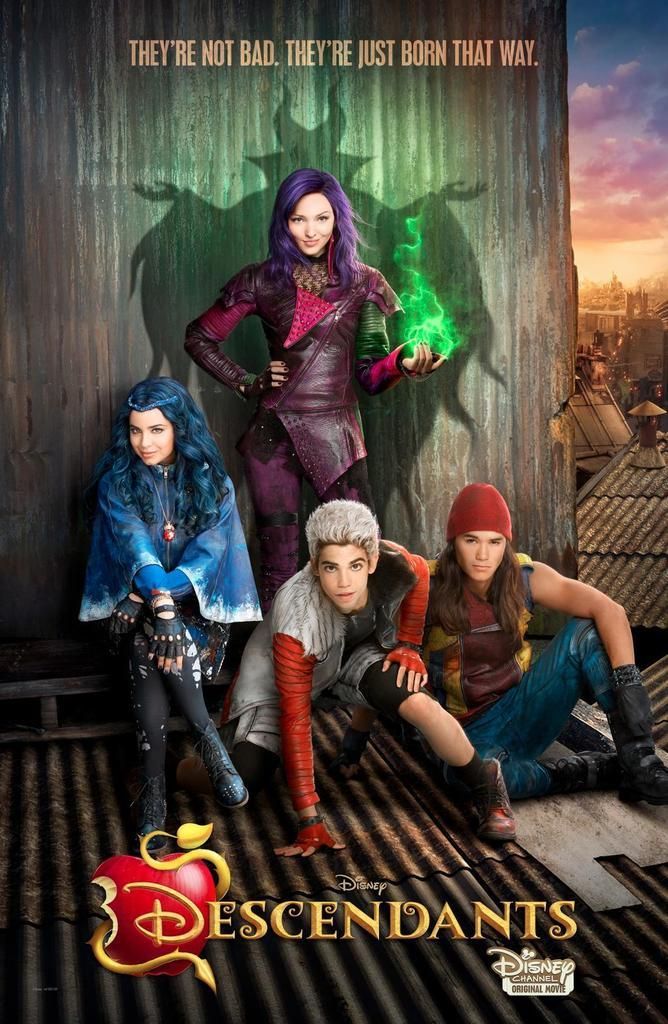 The movie stars Kristin Chenoweth as Maleficent, Dove Cameron as Mal, the daughter of Maleficent, Wendy Raquel Robinson as Cruella de Vil, Cameron Boyce as Carlos, the son of Cruella de Vil, Maz Jobrani as Jafar, Booboo Stewart as Jay, the son of Jafar, Kathy Nijimy as the Evil Queen and Sofia Carson as Evie, the daughter of the Evil Queen. (Shout out to fellow Latina Sofia Carson – you go girl! I'm rooting for ya!)
Also stars Mitchell Hope as Ben, the son of Beast and Belle, Brenna D'Amico as Jane, the daughter of Fairy Godmother, Sarah Jeffery as Audrey, the daughter of Princess Aurora, Zachary Gibson as Doug, the son of Dopey, Jedidiah Goodacre as Chad Charming, the son of Cinderella and Dianne Doan as Lonnie, the daughter of Mulan.
My thoughts on the movie:
I watched it with my son, nieces and nephews – ages ranging from 6 to 12. I, myself, am 30 years old and my older sister watched it as well. I can honestly say that we ALL enjoyed it. From start to finish, it's what a Disney Channel movie is supposed to be – fun.
The songs were catchy – my favorite being Rotten to the Core which introduces and is performed by Mal, Evie, Jay and Carlos and I also enjoyed Be Our Guest which was performed by the students of Auradon Prep – though I wish it was a bit longer but I understand why it wasn't…but that doesn't mean I wish it wasn't longer and that I wanted more old school Disney songs thrown in there but that wouldn't make sense. Don't mind me, my Disney fanatic side is showing. x_x Wait, I can't forget about Evil Like Me performed by Mal and Maleficent – because hello? Kristin Chenoweth. Amazing. No need to say more. Did I Mention performed by Prince Ben, If Only performed by Mal, and Set It Off performed by the cast are great as well. Maybe I can't pick a favorite…
The villain's costumes were great – colorful and edgy. I'm sure we're going to be seeing a lot of Mal & Evie's this October. The cast was great as well – I think they did a good job casting everyone. I ended up loving the villains kids more in this movie than I would the Disney heroes with the exception of Prince Ben, Doug and Lonnie. Why were some of the Disney heroes kids so snooty? Aren't they supposed to be nice? Ugh! I'm so disappointed in you Cinderella and Princess Aurora!
This movie is directed and choreographed by Kenny Ortega, who also did the"High School Musical" franchise, so you know it's good. So grab some popcorn (or make these delicious Rotten to the Core-cakes from Sanity in Suburbia) and your kids and get ready to have a great night by tuning in to Disney Channel on July 31st at 8pm EST or get your hands on a copy of the Disney Descendants DVD the same day! Fun movie that's great for the whole family!