Disclaimer: This is part of a sponsored collaboration with DiMe Media and Dreft.  All opinions are 100% mine.
For those who have been following me on social media, know that I am well into my pregnancy. Just a day shy of 39 weeks! I have been scrambling trying to get everything done before the newest addition to our family arrives. My first born is a boy and this time around, I'm having a little girl and it's been such a different experience but I'm enjoying it just the same. Even though it feels like yesterday, it's been almost 7 years since I had my son so I've been talking to my sister, who recently had her baby in October about things that maybe I was forgetting how to do. One thing that she mentioned to me, was to wash all of the baby sheets, clothes and pretty much anything that is going to come into contact with the baby's skin.
I had NO idea what she was talking about. Nobody told me this for my son, none of his clothes or sheets were washed before his arrival but now that I think about it, it makes sense. She explained to me how many people may have come into contact with the items and babies have sensitive skin, so it's just better to wash off whatever germs and chemicals it may have come in contact with. On the topic of doing laundry, I remembered that my son had some problems with skin rashes due to me switching laundry detergents too soon thinking it was okay and that he was old enough to have his clothes washed with regular detergent since he was almost one. It wasn't until his pediatrician told me that it was the laundry detergent that was too harsh for his skin. I just thought he was allergic to something so I had no idea. I didn't want to take any chances this time around and decided pre-washing everything was the best thing to do.
Of course I decided to go with Dreft – the #1 baby laundry detergent choice of pediatricians and the #1 dermatologist recommended brand for baby clothes and a trusted brand for more than 80 years to do her laundry. And what I love and am excited for, is that I don't have to worry about whether the laundry detergent is right for her age, like I did for my son since Dreft has expanded its product line-up to better meet the different life-stage needs of babies and their families. Dreft welcomes families to the big, messy, beautiful journey of #Amazinghood with its new line of laundry care products.
The new product line includes:
Dreft Newborn (Stage One): Expectant and new parents can wash their little one's fabrics with Dreft's same beloved hypoallergenic formula, designed to be tough on stains and gentle on baby's skin with the beloved Dreft baby scent.
NEW Dreft Active Baby (Stage Two): Specially designed with a growing, developing baby in mind, NEW Dreft Active Baby helps to remove 99% of baby food stains and other outdoor messes with a gentle, hypoallergenic formula and fresh scent.
NEW Dreft Blissfuls (Stage Three): NEW Dreft Blissfuls in-wash scent boosters gives families the baby fresh scent they love. Safe on all fabrics, these beads help bring back that nostalgic, amazing baby scent (and all those memories) with every wash.
I washed everything this past week with Dreft and everything feels softer and with that slight baby scent that I love so much. I am so excited for my little one to be here and so happy to know that the hypoallergenic formula that her clothes and blankets were washed in won't affect her.
As part of Dreft's #Amazinghood campaign, they have launched their "Amazing Baby Days" app – which is now available for FREE in the App store. This one- of-a kind app helps parents – and parents to be – capture the amazing moments of pregnancy through their baby's first year and has recently been updated so that moms and dads can make keepsake movies from photos and videos captured within the app! So be sure to download it!
To help celebrate all the mommies or mommies to be into #Amazinghood, thanks to Dreft, we are going to be giving away all that you see below!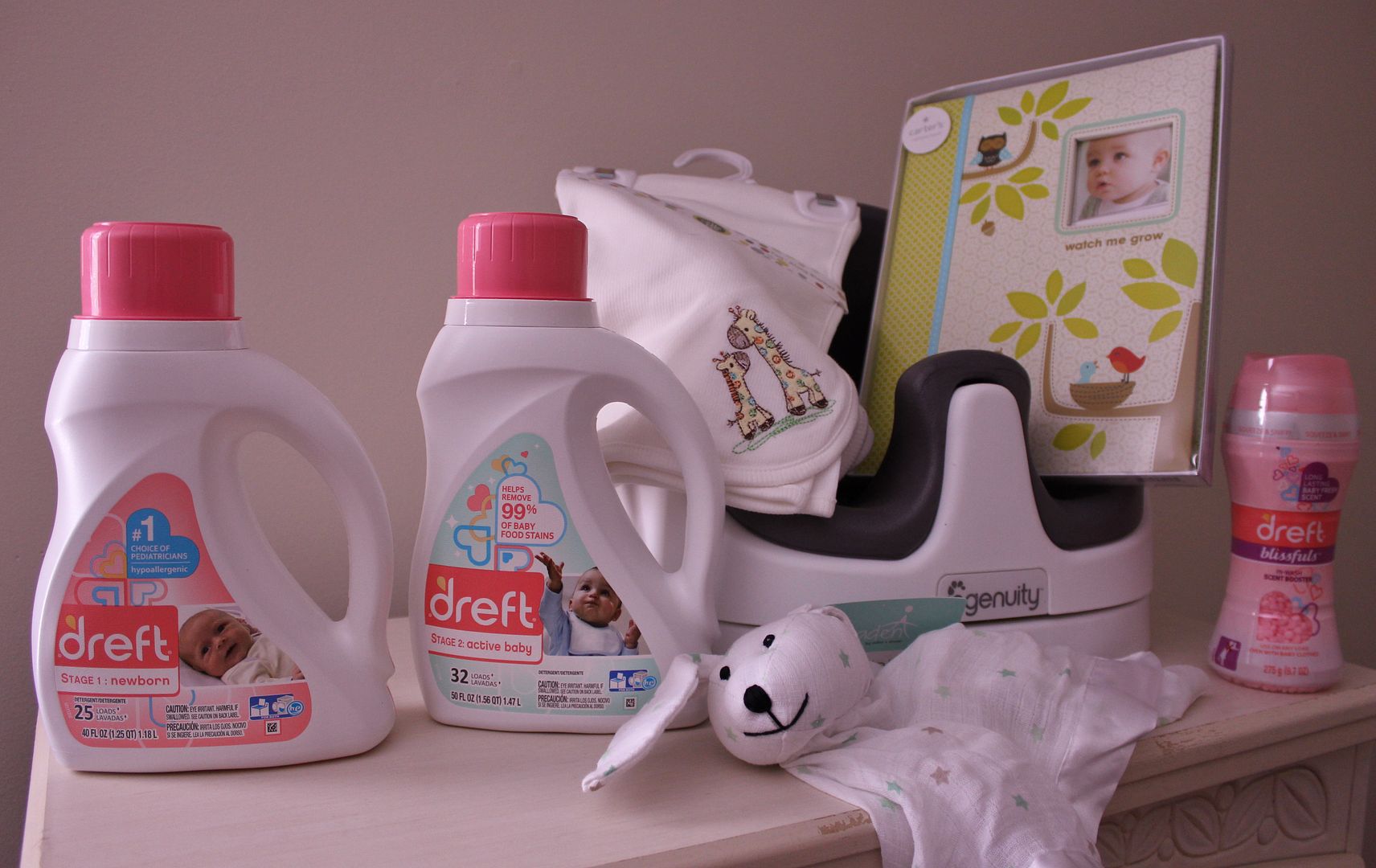 Giveaway Prize Pack includes:
NEW Dreft product line-up
Little Me receiving blanket
Ingenuity Booster Chair
Aden by Aden & Anis Lovey
Carters 5 Year Memory Book
I can tell you that I personally am in love with everything in this prize pack & I'm sure you're going to love it too! And to win it all, all you have to do is leave a blog post comment below saying why you need a life-staged detergent regimen – plus, check out below how to win bonus entries. Good luck to everyone who enters!