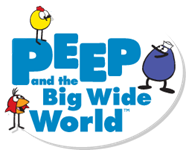 PEEP AND THE BIG WIDE WORLD is an Emmy Award-winning science and math series for preschoolers, funded by the National Science Foundation. Peep features a chicken (Peep), a robin (Chirp) and an irascible, endearing duck (Quack)—along with an extended family of friends and (occasional) foes. The show takes place in and around a large urban park. Comedian Joan Cusacknarrates the series and its theme song is performed by blues legend Taj Mahal.

PEEP AND THE BIG WIDE WORLD is produced by WGBH Boston and 9 Story Entertainment in association with TVOntario.  Major funding for PEEP AND THE BIG WIDE WORLD is provided by the National Science Foundation. PEEP is closed-captioned for deaf and hard-of-hearing viewers by The Media Access Group at WGBH.  PEEP is distributed in the U.S. by American Public Television.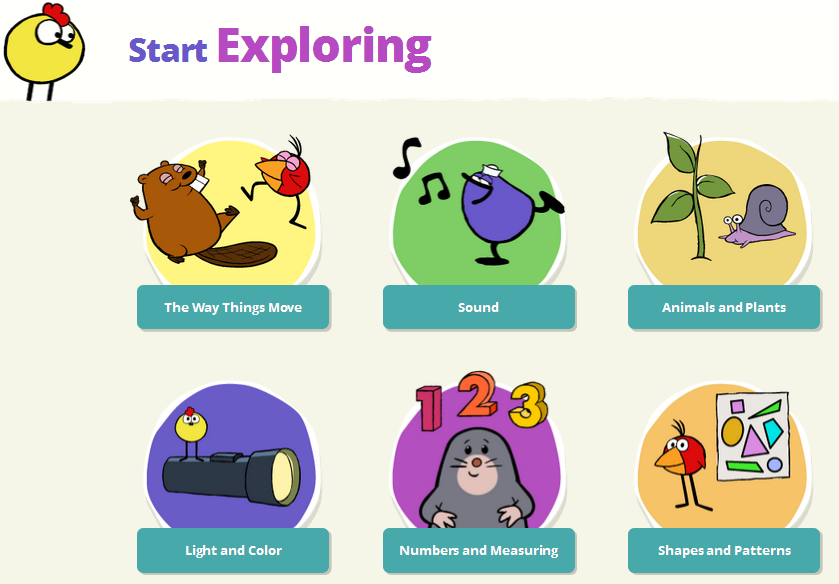 WGBH has announced the launch of an all-new bilingual website and curriculum for Peep and the Big Wide World, the Emmy Award-winning preschool science and math series for 3-5 year olds. The new website, available in both English and Spanish, includes PEEP animated episodes, live-action videos, new games, and family activities, as well as an extensive collection of educational materials and professional development tools for center-based and family-based preschool educators.

Narrated by comedian Joan Cusack, PEEP is a funny and engaging series that teaches science and math to preschoolers and celebrates being curious and adventurous. The series stars a wide-eyed chicken named Peep, a robin named Chirp, and an irascible, endearing duck named Quack. These three friends live in a large urban park—a place of endless wonder, excitement, and mystery – perfect for learning about the world and how it works.

The greatly expanded PEEP website will provide many new features for children, families, and educators:

Children will discover new ways to explore PEEP resources. Peep, Quack, and Chirp will guide children through the website, connecting them to games (which will roll out over the next year), animated stories, and live-action videos, which have been grouped by science and math topic to encourage children to explore each topic in greater depth.
Families will learn how to support their children's science and math exploration. When families log on to play games or watch videos, the website will serve up related PEEP content like books, live-action videos, and "Anywhere Science and Math" activities that families can do at home, in the backyard, or at a local park.
Spanish- and English-Speaking Families will find a dual-language website that is unique in children's media. All of the resources described above will be available in both English and Spanish, and designed so that visitors to the site can switch between languages whenever they desire.
Family child care and center-based preschool educators will be offered a fully developed curriculum and one-of-a-kind professional development materials suited to their needs. The PEEP curriculum, available in both English and Spanish, provides resources for six three-week-long science investigations. Additional materials, including videos featuring real educators, will model best practices in teaching science for center-based preschool educators and family child care educators, an important audience for which very few resources have been developed.
All visitors will be able to explore science and math whenever and wherever they are with a mobile-friendly website, which uses responsive design to give an optimal viewing experience.

"We're thrilled to see Peep and his friends continue to help both Spanish- and English-speaking children learn science and math skills at home, in classrooms, and in family child care settings," says Marisa Wolsky, executive producer, WGBH. "By providing effective and age-appropriate resources, based on a curriculum developed from the latest early childhood education research, PEEP empowers families, as well as center- and family-based preschool educators, to be more equipped, confident, and excited to facilitate science and math exploration."

"Peep and the Big Wide World is a leader in research-based science television for preschoolers, and the National Science Foundation is proud to have supported this series from its inception," says National Science Foundation program director, Valentine Kass. "We are excited that this award-winning preschool resource is being expanded to reach Spanish-speaking communities."

To evaluate the effectiveness of PEEP's resources for family child care educators, the UMass Donahue Institute (UMDI) conducted a formative study that piloted three 3-week curriculum modules in English and Spanish. Results showed that family childcare providers were very positive about their experiences using the Peep and the Big Wide World professional development materials and curriculum. They enjoyed the teaching strategies, the activities, the videos, and reported that the activities were structured to be consistent with best practices in the early education field.

Continue the exploration and fun with Peep and his friends on social media, in English and in Spanish!