DISCLOSURE: I AM A FELD FAMILY AMBASSADOR, AND IN EXCHANGE FOR MY TIME AND EFFORTS IN ATTENDING SHOWS AND REPORTING MY OPINION WITHIN THIS BLOG, AS WELL AS KEEPING YOU ADVISED OF THE LATEST DISCOUNT OFFERS, FELD ENTERTAINMENT HAS PROVIDED ME WITH COMPLIMENTARY TICKETS TO FELD SHOWS AND OPPORTUNITIES TO ATTEND PRIVATE FELD PRE-SHOW EVENTS. EVEN THOUGH I RECEIVE THESE BENEFITS, I ALWAYS GIVE AN OPINION THAT IS 100% MINE.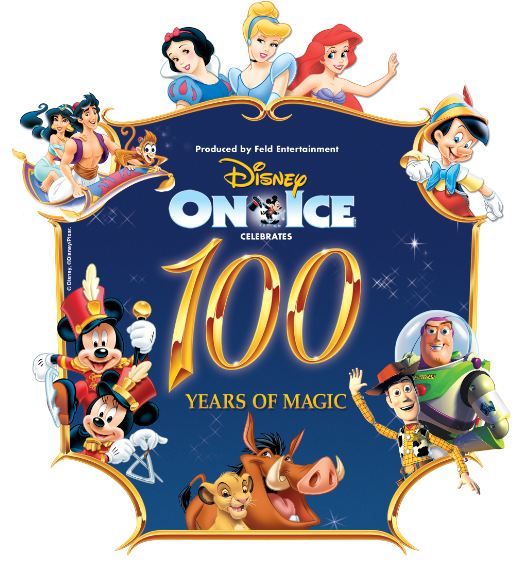 Exciting news for Georgia Disney on Ice fans! Feld Entertainment will be bringing Disney On Ice celebrates 100 Years of Magic! to the Arena at Gwinnett Center on May 14-18, 2014!
On this Disney on Ice show, you are invited to join the celebration as more than 60 of Disney's unforgettable characters from 18 beloved stories come to life in Disney On Ice celebrates 100 Years of Magic!  You'll be captivated by the one and only Mickey Mouse, the irresistible Minnie Mouse, Goofy, Donald Duck, Jiminy Cricket, Pinocchio and many Disney Princesses. Be thrilled by exciting moments from The Lion King; Mulan; and Disney/Pixar's Finding Nemo, The Incredibles, and Toy Story films; in a skating spectacular filled with magical Disney moments you'll remember forever as Disney On Ice celebrates 100 Years of Magic!
We are huge Disney on Ice fans & I'm sure this show is going to be just as great as the others. My son, husband & I enjoy it each time we go & are always excited for the next show. The show is a couple of weeks away so in the meantime, feel free to print out the below coloring sheet for your little one to enjoy!
Full Event Schedule:
Wednesday, May 14, 2014 at 7:30PM
Thursday, May 15, 2014 at 7:30PM
Friday, May 16, 2014 at 10:30AM & 7:30PM
Saturday, May 17, 2014 at 11:00AM & 3:00PM & 7:00PM
Sunday, May 18, 2014 at 1:00PM & 5:00PM
Ticket Info- Purchase tickets at:
Online by clicking HERE
The Arena at Gwinnett Center Box Office
Ticket Prices:
While prices on tickets vary, you can still get $5 Off!  To redeem, click here. Click on the date you want & then look under Promotions & Special Offers click "Buy Offer" and enter code M100. This code is only good for the following performances: Wednesday at 7:30pm, Thursday at 7:30pm, Friday at 10:30am, Sunday at 5:00pm. Savings will apply to the $30 and $25 price levels. Parking is free at the Arena at Gwinnett Center. And if you attend the show, have some extra fun by attending the show dressed as your favorite Disney character!
You can also enter to win a Family 4 Pack of Tickets to see the show on Opening Night – Wednesday, May 14, 2014 at 7:30PM here at Life According to Damaris.
To connect with Disney on Ice, be sure to connect with them on Facebook & Twitter. And don't forget to enter to win 4 tickets to the Opening Night below!
Giveaway begins today, April 29, 2014 at 3:30PM EST & ends on May 9, 2014 at 11:59PM EST. Good luck to everyone who enters!