This is part of a sponsored collaboration with Latina Mom Bloggers and Disney Studios. However, all opinions expressed are my own. Este post forma parte de una campaña patrocinada con Latina Mom Bloggers y Disney Studios , las opiniones expresadas son mías. Esta advertencia se hace en cumplimiento de las Directivas de la Comisión Federal de Comercio (Federal Trade Commission Guidelines), 16 C.F.R Parte 255.
As kids grow up, they tend to want to be more independent as the years go by. Asking for help gets harder for them as they want to do everything on their own. I admit, I was stubborn when I was growing up, grumbling as my teacher put us in groups to work together or whenever my parents made my siblings & I do something together. Incluso hasta hoy en día, quiero hacer las cosas por mi cuenta pero despues me siento abrumada, pero entonces mi esposo o alguien más viene a mi rescate y me ayudan. Working together as a team should always be welcomed. With team effort, things can be done faster, or ideas could come up that you didn't even think about.
Si los adultos necesitan un recordatorio o dos acerca de cómo trabajar bien con un equipo, imagínense los niños. I only have a son but I have a TON of nephews and nieces. I've noticed that my nieces don't mind working in teams but my nephews? That's a different story. It seems like everything has to be a competition with boys. Just the other day, they were fighting about who would be faster in making signs for the Church Bake Sale, instead of working and making a big sign together.
I decided to give them a lesson on working together but making it fun by making it a movie night and watching the latest from Disney's Fairies franchise, Disney's The Pirate Fairy.
In the latest movie, Tinkerbell and her friends have to work together and save Pixie Hollow when a dust keeper named Zarina takes all the Pixie Dust supply and partners up with pirates. Vi esta película sin saber más que eso y estaba realmente sorprendida por la película. It's a really fun story full of Disney magic and heart that we have all grown to love. As well as some catchy songs – fans of Tom Hiddleston will not be disappointed! The girls loved the movie and so did the boys – they were laughing and were surprised they liked it so much. We loved that the movie not only taught about teamwork but about not turning your back on friends, regardless if they make bad choices sometimes.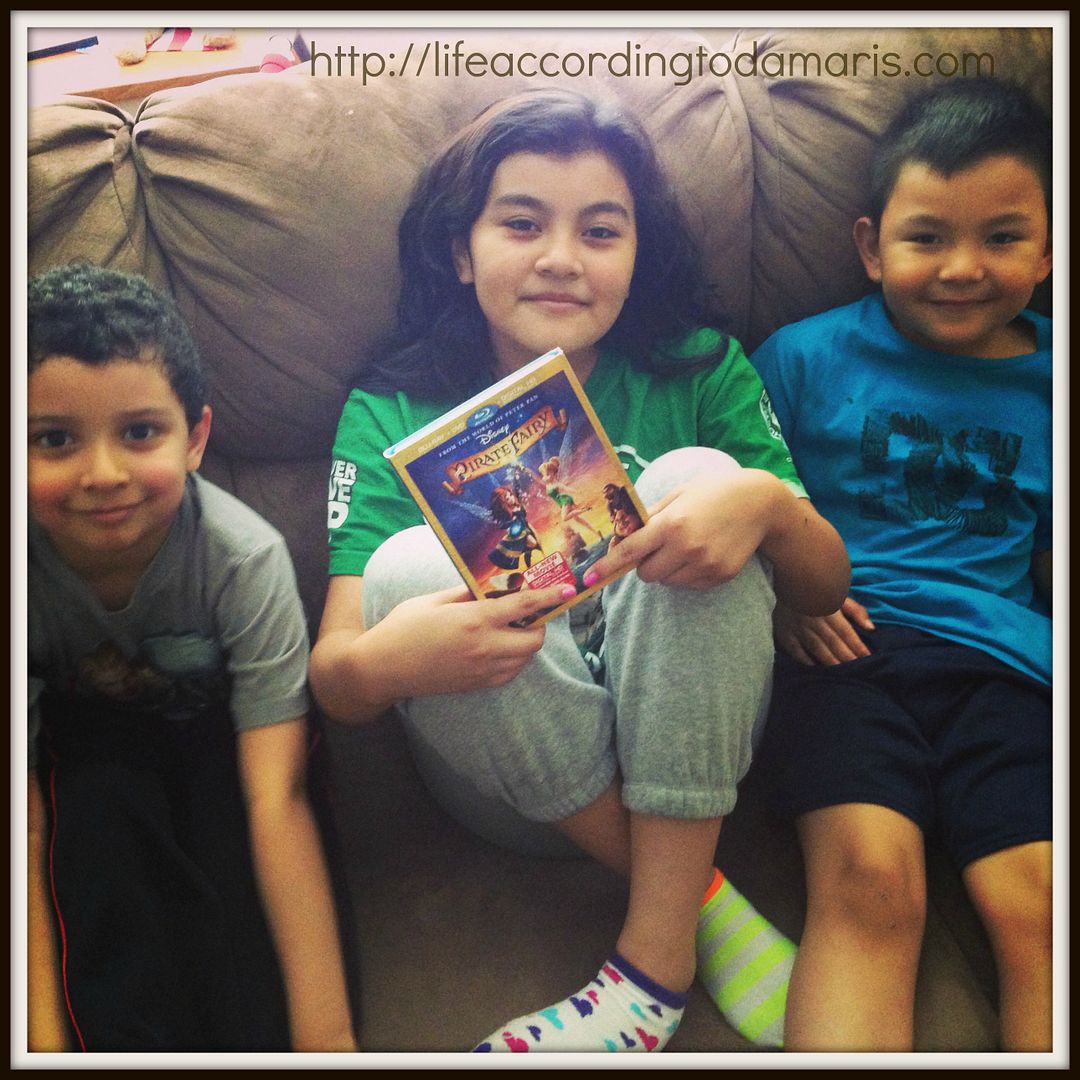 My nieces are in love with the newest fairy Zarina & so am I – she has fabulous wild hair and style and a great outlook on life. Todas las hadas son impresionantes, pero me encanta que Zarina cuestiona las cosas y trata de hacer Pixie Hollow mejor. The boys liked that even though he was a pirate, there was a Latino in the movie! Todavia estamos esperando que Disney se decida a tener una Princesa Latina. 😉
After the movie, we all got together & worked on different crafts together. I am happy to report that there was no fighting or competitive streaks going.
Great movie & a great lesson – we highly recommend you get Disney's The Pirate Fairy! If you follow us on Instagram, I hope you've been following along on our Pirate Fairy Photo Challenge – which ends today. You can follow along on Instagram & Twitter with the #HadaPirata hashtag. We've had lots of Pirate Fairy fun from the photo challenge to the movie – which by the way, the whole family is sure to love! Be sure to get your own copy – Disney's The Pirate Fairy on Blu-ray™ & Digital has been out since April 1st! 🙂