Disclosure: I am a Feld Family Ambassador, and in exchange for my time and efforts in attending shows and reporting my opinion within this blog, as well as keeping you advised of the latest discount offers, Feld Entertainment has provided me with complimentary tickets to Feld shows and opportunities to attend private Feld pre-Show events. Even though I receive these benefits, I always give an opinion that is 100% mine.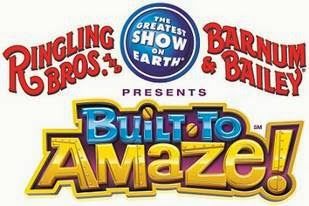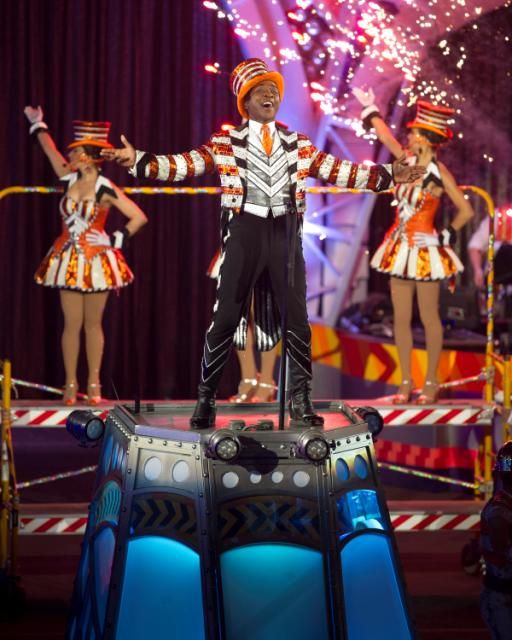 Fun Facts
Andre McClain
Ringmaster
He is an accomplished animal trainer, cowboy, rodeo star, country singer and songwriter.
Andre is a descendant from a long, distinguished African-American cowboy heritage that dates back to the early 1900's.
King Charles Troupe
Basketball Unicyclists
The legendary King Charles Troupe performs the world's wittiest, wackiest game of basketball on unicycles!
The Troupe first appeared with Ringling Bros.® in 1969 and was the first African-American act in the history of the circus.
Troupe leader, Kim Anthony Jones (Kip), accomplished a record setting 164 single jumps on a unicycle while double-dutch jump-roping.
Unicycling Tips:
When riding a unicycle, keep your weight on the seat, not on the pedals for better balance!
Unicycling requires leg and core strength.
Lean forward and keep your eyes focused ahead of you to help keep your balance.
Lean in the direction you want to turn just like on a bicycle or motorcycle for a gradual turn.
Turn to the right as the right pedal goes down or to the left as the left pedal goes down for a sharp turn.
Trampoline Tower Tumblers
Trampoline Acrobats
The Tower Tumblers from the Ukraine launch themselves from two trampolines to scale, repel and pass through a three-story high translucent tower!
Alex & Irina Emelin
Animal Magic, Dog Act, Comedy Duo
Alex and Irina Emelin are a nine-time international award winning comedic duo from Russia.
The Emelins' have spent years constructing unique acts full of comedy, animals, magic and dynamic athleticism.
The Emelins love American culture so much that all of their 16 black and white poodles are named after famous American actors!
Stars of the Steel Vortex
Wheel of Steel Acrobats
The Wheel of Steel is powered by the strength of the performers who combine balance with acrobatic skills without a safety net.
As the wheel approaches the floor, the performer experiences several times the force of gravity.
The Steel Vortex moves side to side while it rotates making balancing for performers extremely challenging.
Performers power up the 46-foot apparatus to speeds of more than 25 miles per hour!
At the top of the wheel's rotation, a performer experiences zero gravity.
As a performer moves forward in the wheel, he pulls the center of gravity away from the center, causing the wheel to rotate.
In a performance, an acrobat walks both on the inside and outside of the wheel.
While on the outside of the wheel, the performer must pass between the wheel struts called "the tunnel" without the use of a safety net or harness.
The Wheel of Steel defies the forces of gravity as four outrageous daredevils including Flavia Costa, a 5' tall female acrobat, propel themselves with cat-like ease in and out the spinning double wheel.
The Danguir Troupe
High Wire
Danguir troupe leader Mustafa jumps a car length's distance over four troupe members on a high wire 25 feet in the air! He is first person in the word to consistently do this successfully.
High wire walkers wear very thin and flexible, leather-soled shoes to protect their feet from abrasions and bruises.

High wire Tips

:
When preparing to jump, a high wire performer's feet should be aligned with the wire toe to heel.
When landing after a jump, a high wire performer's feet should be at an angle to the wire for better balance.
The Danguir Family dazzle as they raise the roof, looming high above the arena floor, on a high-wire as thin a pencil, as they execute difficult acrobatics and dangerous stunts.
The Danguir's construct two-man pyramids and intricate jumps, including an incredible one man leap from one troupe member's shoulder to another's
The high wire is suspended 25 feet in the air.
The high wire is only ½ inch wide . . . the same width as your thumb!
Kiev Aerialists
Spiral Lyras
The Kiev Aerialists perform their enchanting aerial artistry 30 feet in the air in custom-built spiral lyras.
Dimitri Dolgikh and Nadejhda Tarasova
Iron Jaw Aerialists/Strap Act
Aerialists Dima and Nadja combine their amazing strength with ballet and gymnastics skills on the high aerial straps 35 feet in the air as they flex, flip and effortlessly float through the circus stratosphere.
They also perform in an incredible Iron Jaw routine where Nadja is suspended in the air by nothing more than a mouth piece clinched behind Dima's teeth and pure jaw strength.
Francleib Rodrigues and Monica Neves
Upside Down Footlooping
To prepare for performing at The Greatest Show On Earth, "Flobson" had to practice being upside down for increasingly longer periods of time each day to allow his body to become more accustomed to the full routine without fainting.
A first-generation circus performer from Rio de Janeiro, Brazil, Francleib Rodrigues started on the flying trapeze.
Francleib Rodrigues ("Flobson") and Monica Neves "walk" in foot loops inverted 25 feet high above the arena floor – without a net or harness!
Flobson mixes his flying trapeze and asymmetrical trapeze bar skills to leap seven feet from one trapeze to another!
Menage
Ringling Bros. and Barnum & Bailey® Asian Elephants
Ringling Bros. has the largest sustainable herd of captive Asian elephants in the western hemisphere.
So far, we've had 25 elephant calves born in to our breeding program!
The Ringling Bros.® Asian elephants show off fresh and classic dance moves reflecting each elephant's unique talent and personality.
Elephants learn by imitating and can respond to over 60 verbal cues.
The tallest point of an elephant is its head . . . about the height of a basketball hoop!
To stay healthy, an elephant drinks up to 800 glasses of water a day!
Asian elephants have 150,000 muscles in their trunks!
Their trunks are strong and flexible enough to pick up a large log or an object as fragile as an egg.
A full-grown elephant tooth weighs about as much as a 9 pound bowling ball.
When elephants feel hot, they flap their ears to cool down.
Elephants eat up to 300 pounds of food a day. That's more than people eat in two months!
Clown Alley
Clown Alley mixes soap bar shavings, tempura paint, and water with an industrial strength mixer to create the foam needed for their soap gag.
Every movement and gesture is carefully choreographed and rehearsed so the clowns don't get hurt – only soaked and soapy.
The world-famous Ringling Bros.® Clown Alley, (MADE UP OF 5 FEMALES AND 7 MALES) are the foundation of Built To Amaze! and will fabricate the audiences' funny bones with hysterical silly antics and clownish comedy.
The Negrey Troupe
Fast Track Acrobatics
The Negrey Troupe from Russia and the Ukraine, perform over 300 flips, jumps, rolls, and leaps down an 80-foot-long custom built tumbling fast track.
The 10-member Negrey Troupe display more than 151 years of astounding acrobatic expertise.
Duo Fusion and Duo Solys
Hand Balancing
Using their bodies as building materials, they construct beautiful human pyramids, each one more complex than the last!
The dynamic Duo Fusion and Duo Solys hand-balancers, demonstrate powerful passion and insane flexibility!
Duo Fusion and Duo Solys surprise audiences when the petite females, Virginia and Tatiana support their male partners, Giovanni and Hector.
These very distinct yet captivating couples maintain perfect synchronization even as Duo Fusion's Virginia attempts to balance Giovanni, upside down on her shoulders, poised in three inch heels and Duo Solys' Tatiana attempts to elevate Hector with only one arm.
Elliana Grace
Human Cannonball
Just 20 years old, Elliana will amaze audiences as she slips down into the 24-foot long cannon with a diameter measuring just 30 inches!
Landings are the most dangerous part of performing as a human cannonball!
The moment of impact is always a shock to the body. A really bad landing can kill you.
Inside the dark cannon barrel, Elliana will be elevated to a forty degree angle where upon the Ringmaster's command she instantly becomes the Human Cannon Ball.
Elliana will rocket through the arena sky experiencing a G-force of 7, the same force felt by NASA's Apollo 16 upon reentry into the Earth's atmosphere, and land at an incredible distance of 100 feet!
Tabayara Maluenda
Tiger Trainer
Tabayara presents the largest display of big cats in the world, standing eye to eye with 18 ferocious exotic tigers.
Taba's fast-paced Bengal tigers include the traditional Black/Orange, Black/White, Tabby, and all White variations.
A tiger can eat 60 pounds of meat in a single night. That's like eating 385 hamburgers!
Tigers communicate their feelings through body language such as the position of their ears and tail.
The average span of a tiger's swipe is 5 feet.
The total amount of pressure of a tiger's jaw is 300 pounds.
In Built To Amaze, Tabayara presents a remarkable new element as four tigers, each poised with just one razor sharp claw on a spindle and using their hind legs rotate in perfect unison.
Tabayara and these mighty tigers jump, roar and dance, and have the audience on the edge of their seats.
Like your fingerprint, no two tigers have the same pattern of stripes.
Lucenir Viera de Souza, Ashley Vargas and Robert Stipka
Liberty Carousel and Musical Rings
Liberty horses perform using only voice and visual commands.
The horses performing in BUILT TO AMAZE are Arabians, Friesians, Paints and Norwegian Fjords.
Robert Stipka, Jr. leads 4 exotic Arabian horses in a game of "musical rings" where the horses perform full waltzes in sync with musical cues.
Horses can live from 25 to 25 years of age.
Lucenir displays equine excellence as she presents the elegant and athletic white Arabian horses in a liberty display.
A circus horse act is generally referred to as a "liberty" act; free from riders or tethers.
Ringling Bros. beloved animal presentations will delight all as Ringling Bros. constructs a mesmerizing living carousel uniting powerful yet elegant Friesian and Arab horses that are remarkably synchronized with beautiful aerialists suspended above the arena floor.
Always be careful when in front or behind a horse because these are their blind spots.
Horses have an upper prehensile lip that is very sensitive and can be used to pick things up.
A horses brain is the size of a potato.
Horses ears point where they are looking.
A horse sees two different images from each eye.
A horse cannot breathe from its mouth.
Horses only sleep 3-4 hrs in a 24 hr period.
Horses lock their legs when they sleep so they don't fall over. They can sleep while standing.
Horses can communicate how they are feeling by their facial expressions. They use their ears, nostrils, and eyes to show their moods.
They have better vision at night than humans do.
Horses can drink 10 gallons of water a day.
A horses' head weighs 10 pounds on average.
Horses have monocular vision. They can use both eyes to look at two different objects since they are on each side of their head. Hence, they can use one eye to watch the front, and another to watch the back.
Trivia
1)    "Giraffe unicycles" used in the King Charles Troupe's basketball on unicycles performance in Built To Amaze range in height from:
1 to 2 feet tall
3 feet to over 10 feet tall
20 feet tall
12 to 16 inches tall
2)    The total amount of pressure of a tiger's jaw is:
2 pounds
50 pounds
150 pounds
300 pounds
3)    The Danguir Troupe's high wire is approximately the:
Width of a roll of nickels
Width of a telephone pole
Width of a pencil
Width of a curtain rod
4)    In the "Iron Jaw" display, an acrobat is suspended 30 feet in the air from a metal and leather:
arm band
neck strap
mouthpiece
shoulder harness
5)    Asian elephants drink an equivalent of how many glasses of water a day?
200 glasses
400 glasses
600 glasses
800 glasses
6)    Nine-time award winning comedic duo Alex and Irina Emelin from Russia travel with a menagerie of over 30 animals.  What types of animals are featured in Built To Amaze?
Cats, dogs and birds
Rabbits, a snake, a donkey and ferrets
Guinea pigs, porcupines and horses
A gorilla, a zebra and a walrus
7)    Acrobats on the 46-foot Double Wheel of Steel, flip, jump and do a human pyramid as the wheel rotates at what speed?
More than 5 mph
More than 15 mph
More than 25 mph
More than 50 mph
8)    Ringling Bros. and Barnum & Bailey Clown Alley performs a hilarious soap gag in Built To Amaze.  What ingredients are used to make their special brand of soap for their performance?
Shaving cream
Dishwasher soap and water
Bubble bath and hot water
Soap bar shavings, tempura paint and water blended with an industrial strength mixer.
9)    The incredible Negrey acrobatic troupe performs over 300 flips, jumps, rolls and leaps down a custom-built fast track that is how long?
20 feet in length
40 feet in length
50 feet in length
80 feet in length
10)   Tabayara Maluenda presents the largest exhibition of magnificent     Bengal tigers in the world. How many tigers are featured in this year's Built To Amaze show?
More than 8
More than 10
More than 13
More than 16
*ANSWERS AT THE BOTTOM OF POST*
Performances are at The Arena at Gwinnett Center Feb. 5-9, 2014 Show Times:
Wednesday, Feb. 5, 2014 at 7:30 p.m.
Thursday, Feb. 6, 2014 at 7:30 p.m.
Friday, Feb. 7, 2014 at 10:30 a.m. and 7:30 p.m.
Saturday, Feb. 8, 2014 at 11 a.m., 3 p.m. and 7 p.m.
Sunday, Feb. 9, 2014 at 11 a.m., 3 p.m. and 7 p.m
Performances are at Philips Arena Feb. 12-17, 2014 Show Times:
Wednesday, Feb. 12, 2014 at 7:30 p.m.
Thursday, Feb.13, 2014 at 7:30 p.m.
Friday, Feb. 14, 2014 at 10:30 a.m. and 7:30 p.m.
Saturday, Feb. 15, 2014 at 11 a.m., 3 p.m. and 7 p.m.
Sunday, Feb. 16, 2014 at 11 a.m., 3 p.m. and 7 p.m.
Monday, Feb. 17, 2014 at 11 a.m., 3 p.m.
All seats are reserved, and tickets are available at The Arena at Gwinnett Center and Philips Arena Box Office, online by visiting www.gwinnettcenter.com (Duluth), www.ticketmaster.com (Philips) or via phone by calling 888-9-AXS-TIX (Duluth) or 1-800-745-3000 (Philips).
While prices on tickets vary, you can still SAVE 20% on all tickets!  Use promo code GASSOUTH to save 20% on the face price of the ticket, excluding fees.  Good for all performances.  Excludes Circus Celebrity, Front Row, VIP and Club seats.  No double discounts.  Subject to availability.
Read five books and receive a FREE Kid's Ticket with the purchase of a Full-Price Adult Ticket through our Reading With Ringling Bros. program. Visit 
www.readingwithringling.com
 to see participating libraries and library Clown appearance dates.
*Answers: 1) b, 2) d, 3) a, 4) c, 5) d, 6) b, 7) c, 8) d, 9) d, 10) d *