Disclosure: I was sent item for review purposes. However, all opinions expressed are my own.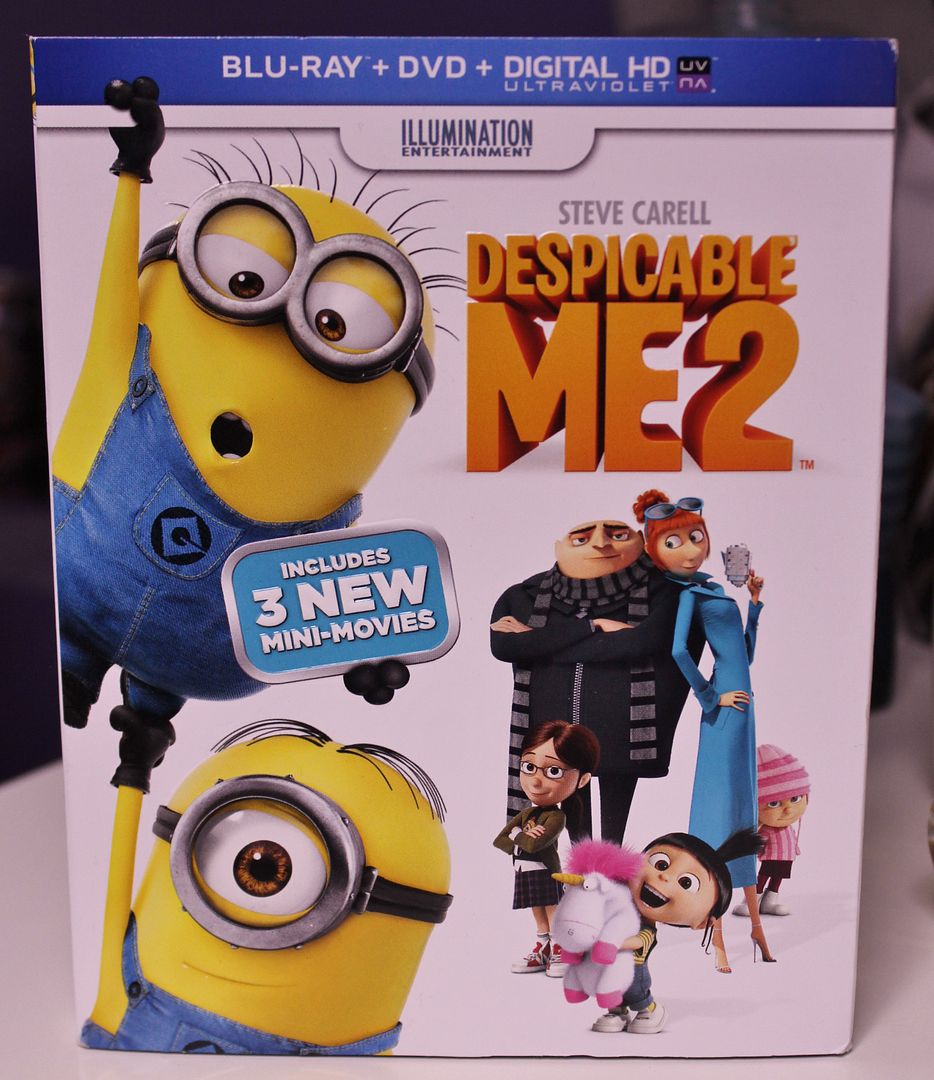 About the film:
In Despicable Me 2, Gru has given up being bad & is focused on being a great Dad to the girls. The life of danger behind him….until the Anti-Villain League recruits him to track down a new criminal mastermind.With his new partner, secret agent Lucy Wilde, along with his loyal Minions, Gru must figure out how to keep his cover while also keeping up with being a Dad. Will Gru be able to help save the day? You're going to have to watch the movie to find out!
Combo Pack Exclusives (Blu-Ray, DVD & Digital HD):
3 New Mini-Movies
Making of the Mini-Movies
Deleted Scene
The Minions
Evil Minions
A Gru-some Transformation
El Hombre Malo: The Villainy of El Macho
Blu-Ray Bonus:
Feature Commentary with Directors Chris Renaud & Pierre Coffin
Gru's Girls
Gadgets Galore
Our thoughts on the film:
As you can see from the above picture, my son LOVES Despicable Me. He has Minion toys everywhere & has about 8 different Minion shirts that he wears any chance he can get. The first movie was on repeat every other weekend it seemed so I was VERY happy to know that they had come out with a second movie. We saw it in the theater & we hadn't even come out from seeing it, and he was already asking when the DVD was coming out!
Luckily, we were able to review a copy before its release & we've been watching it non-stop since. What I love the most about the Despicable Me 2 combo pack is that it brings the 3 extra mini-movies featuring the lovable Minions! My son was happy to see something new. It doesn't matter how many times he watches though, he laughs every single time. I don't mind since I live for hearing that little laugh. Fun from start to finish – we definitely recommend this movie! It's just as fun, if not more, than the first movie & even if you haven't seen the first movie, it's easy to follow along. One movie that the whole family is sure to love!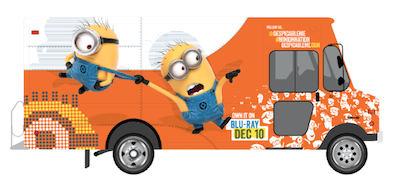 To help celebrate the release, Universal Studios Home Entertainment is letting loose Minion Mobiles in Los Angeles, New York, Chicago and Philadelphia! Don't worry if you don't live in those cities. You can still check out what the Minions are doing in a city near you  by entering your city's information at http://www.minionsmovie.com . The Minion Mobiles will be distributing fun Despicable Me 2 prizes and other surprises including a Minion Island Vacation to Hawaii!
Look out for the trucks in these cities:
LA – three weeks (Starting Week of 11/25)
NYC – three weeks (Starting Week of 11/25)
CHI – 2 weeks (Starting Week of 12/2)
PHI – 2 weeks (Starting Week of 12/2)
Don't forget to get your own copy of Despicable Me 2 starting on December 10th! In the meantime, check out this fun clip below!