Disclosure: I was sent item for review purposes. However, all opinions stated are my own! 
About the film:
In "Jake and the Never Land Pirates: Never Land Rescue," the magic of Never Land begins to disappear just as the ancient Forever Tree seems to be fading away. A mysterious figure known as "The Guardian" arrives to explain that only the pirate who truly believes in himself can save Never Land from vanishing completely. Jake breaks off from the rest of his crew and goes alone on a mission to save the Forever Tree, the source of magic throughout all of Never Land. Guiding Jake on his quest is Tinker Bell, who makes her first-ever appearance in the series. Will Jake be able to save the magic of Never Land & help stop the Forever Tree from fading away? You're going to have to watch to find out!
Episodes included in the DVD:
"Jake and the Never Land Pirates: Never Land Rescue"
"It's a Pirate Picnic"/ "The Key to Skull Rock"
"The Golden Twilight Treasure"/"Rock The Croc!"
"Jake and Sneaky Le Beak"/ "Cubby the Brave"
"Jake's Special Delivery"/ "Seahorse Saddle-Up!"
Bonus Features: 8 "Playing with Skully" Shorts (Sailing The Never Sea, Where's Sandy?, Pulley Hook, North Bound, Diving In The Coral Reef, Ship Ahoy!, Pirate Puzzle, Coconuts On Pirate Island)
DVD comes with Jake Sword with Glow-in the-Dark Stickers packed inside!
My son was sent this as an extra. Eye patch, sword & tattoos? He was going pirate crazy!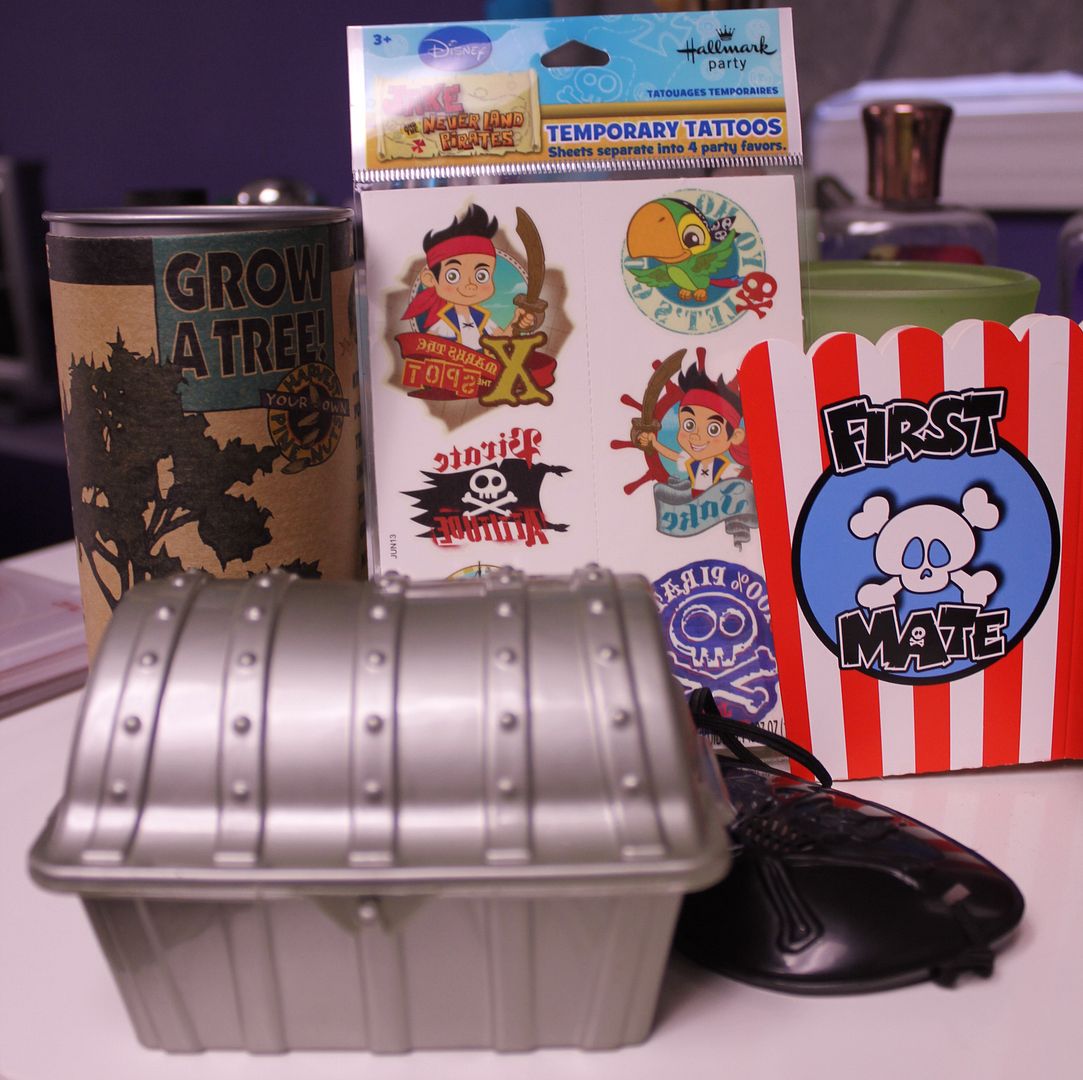 Our thoughts on the DVD:
It's no secret that we love Jake here at my house! My son loves him & doesn't like to miss his show. Since starting school, I've had to DVR the show for him. Sometimes, mommy needs the DVR though, lol, so DVDs come in real handy! In addition to the main special episode, these DVDs include bonus episodes as well as bonus material & so far, every Jake DVD we've gotten has included a sword of some sort or other goodies – which is always a huge plus!
My son of course loved the episode but I have to say, I LOVED it as well. I love, love, love Tinker Bell & she makes an appearance so I was sitting with my son eating popcorn, enjoying the DVD along with him! Great story – filled with the same fun spirit as all the Jake & the Never Land Pirates episodes. We highly recommend getting your own copy starting on November 19th! You're gonna love it! 😀