Disclosure: I participated in a campaign on behalf of Mom Central Consulting for Dove. I received product samples to facilitate my review as well as a promotional item as a thank-you for participating.
It's kind of funny how as a pre-teen, you're counting down the days when your parents let you shave & as an adult, you're counting down the days where you could care less, lol. Shaving takes time – you have to be super careful not to cut & irritate your skin. Unfortunately for me, my morning showers are super rushed. My super fast shaving skills are pretty good but I do get the occasional cut or two, nothing noticeable. One place that it is noticeable? My underarm area! Yes, I am one of those 32 million women in the U.S. who experience underarm red and dark marks that result from shaving irritation.
Did you know that your underarm skin loses 50% more moisture when you shave? In addition to the dryness & irritation certain deodorants cause as well. I only trust Dove for my sensitive underarm area. I have sensitive skin & Dove's products are amazing – always gentle on my skin. I'm happy to see that Dove has come out with a brand new Dove Clear Tone Anti-Perspirant/Deodorant line which is designed to reduce red and dark marks in just two weeks, while also providing 1 / 4 moisturizers to replenish skin after women's daily shaving routines. This line of deodarnts are specially formulated with Calendula and Sunflower Seed Extracts & are said to accelerate the natural skin renewal process to help restore skin to its natural tone. Dove Clear Tone also offers 48-hour odor and wetness protection and comes in four variants including new Pink Rosa – a floral and fruity fragrance.
I was able to review the Dove Clear Tone Deodorant in Pink Rosa & Sheer Touch. I actually went out & bought the Skin Renew one as well. I used a different one each week & they all work great. They smell great & it's an effective anti-perspirant – though, I can't tell you if it lasts 48 hours since I take a shower every day, lol. Okay, I wasn't going to tell you this but he doesn't read my blog anyways so I'll tell you this – my brother-in-law uses Dove Deodorant as well – he says it's the only thing that works for him so hey, it must be good if it's gentle but tough enough for man! 😉 I've been using them for 3 weeks & yes, I've noticed a slight difference – they're definitely less darker!
I think it's all thanks to the Skin Renew Clear Tone – it probably has to be my favorite but the Sheer Touch one comes in close second – though the Pink Rosa one smells wonderful. Seriously, it was hard to choose a favorite but the point is, they work! Very moisturizing & stays on clear. Such a great product & I'm not just saying that. I've struggled with my underarms being dark since I was a teen & it's been embarrassing & a struggle to find a product that actually helps & this is it folks – it's helped me a lot & I'm definitely going to continue to use them.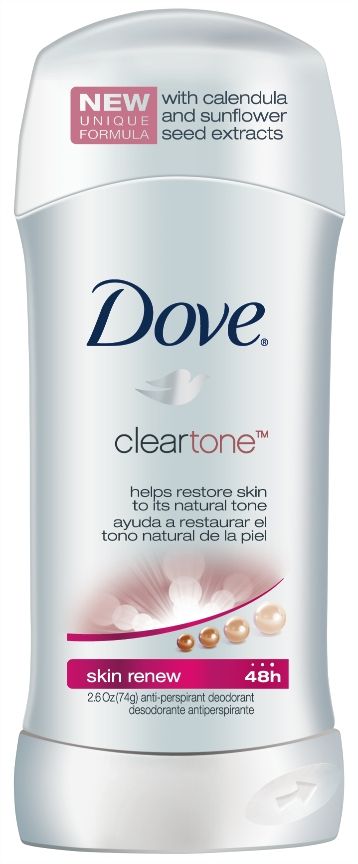 The amazing this is, Dove products are effective but affordable & they're available at drugstores nationwide. It can't hurt to try them out! If you'd like, you can find more information at Dove.com about the Clear Tone line or other Dove products & you can also connect with Dove on Facebook & Twitter.
Have you tried out the Dove Clear Tone line or other Dove products?