It happens 145 times an hour & on average, 3 women die every day as a result. Domestic violence happens to 1 in every 4 women (that's more women than breast cancer, ovarian cancer and lung cancer combined), yet – you rarely hear about it even though it's an issue that impacts millions. Feeling ashamed & confused, there are many who suffer from it who just keep it to themselves. Others can't even live to talk about it – it just takes one time for it to get too far.
I've heard "Well, it's their fault! Why don't they just leave?" when I've talked about domestic violence before & let me tell you, NO, it is NOT their fault & it's not that easy for some to just get up & go. Lacking financial knowledge or resources is the number one indicator of whether a domestic violence victim will stay, leave or return to an abusive relationship. When some seek help, sometimes we just don't know what to do – which is why it's important that we all start talking about domestic violence more & passing on the information we learn to those in need. A majority of Americans agree that domestic violence is tough to talk about. More than one-third of Americans have never discussed the issue with family or friends but Purple Purse provides a conversation starter.
Purple Purse, now in its third year, helps people carry on conversations and pass along information about domestic violence and financial abuse by placing the power directly into people's hands with a purple purse.
As part of Domestic Violence Awareness Month in October, Purple Purse, The Allstate Foundation's symbol for domestic violence, proudly represents a woman's way to escape the cycle of abuse by gaining financial independence. The campaign has pledged to donate up to $350,000 to the YWCA for programs designed at assisting survivors of domestic violence and other women in need.
For every purple purse passed through the end of October, The Allstate Foundation will donate $5 to YWCA. You can help by visiting their Facebook for more information or PurplePurse.com to help pass a purse. Be sure to enter code 0003 when you help pass a purse to someone in need. With just a little, you can help to stop this vicious cycle & to help support more programs set to help those who need it.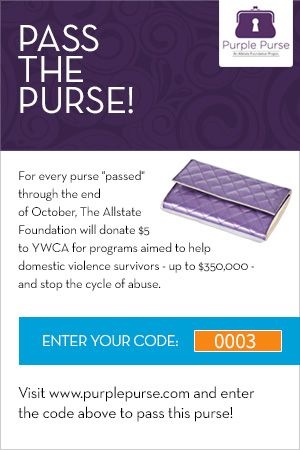 If you'd like to join in on the conversation to help spread awareness about domestic violence, be sure to attend the Allstate Foundation Twitter Party on October 9, 2013 using the #PurplePurse hashtag.