Disclosure: I was sent complimentary items for review, thanks to Influenster. However, all opinions expressed are my own.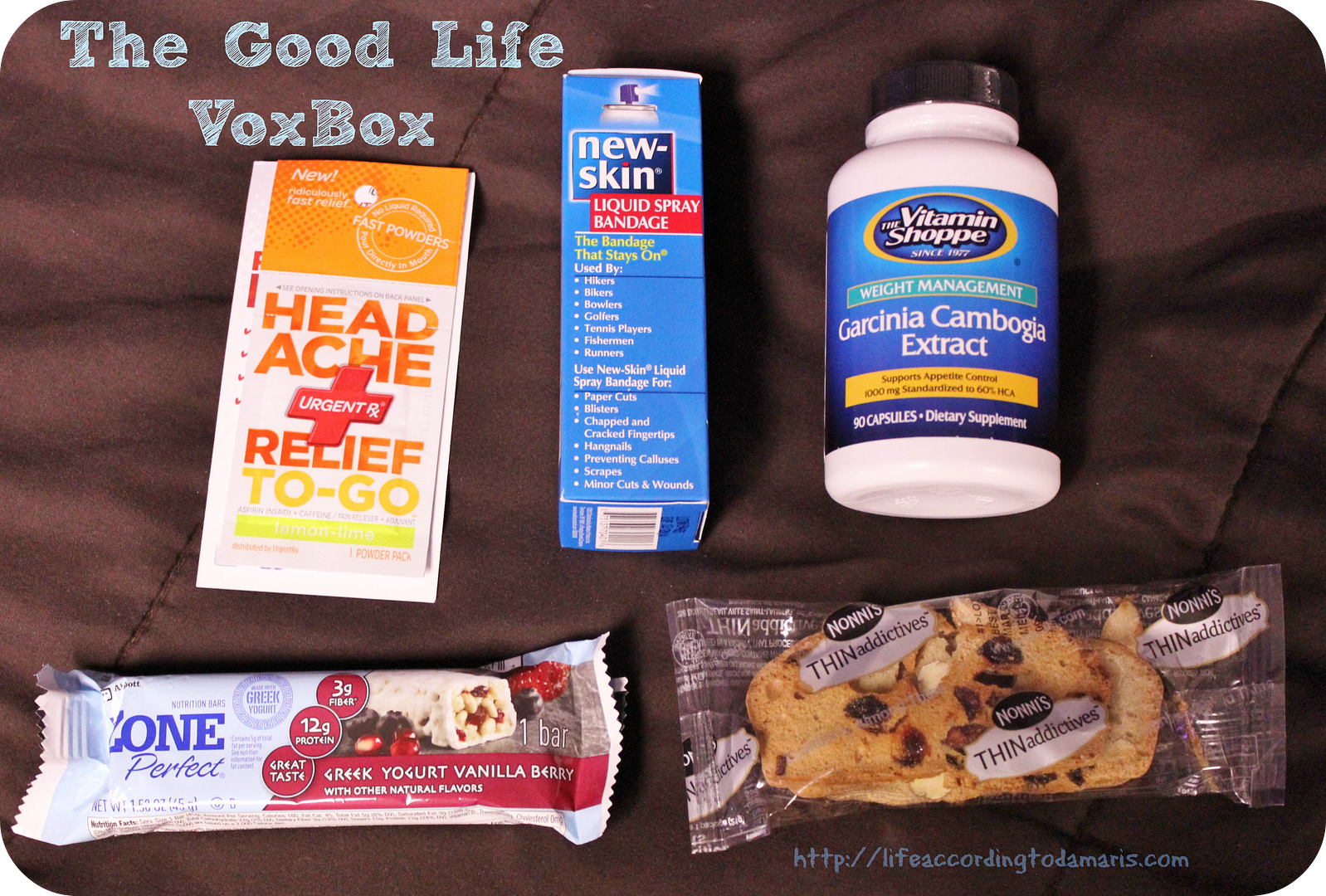 Thanks to Influenster, I was able to review the Good Life VoxBox. The VoxBox included: New-Skin Liquid Bandage ($7.29), ZonePerfect Greek Yogurt Bars ($1.25/bar), UrgentRX Fast Powders ($1.39), The Vitamin Shoppe Garcinia Cambogia ($16.99) & Nonni's THINaddictives ($3.99).
Out of all of the items, my favorite probably has to be the New-Skin Liquid Bandage. It dries super fast to form a protective cover that's antiseptic, flexible, waterproof but still lets skin breathe. Let me tell you that while it DOES work, it also stings when applied to cuts but it definitely works to stop the bleeding & helped with the soreness. I applied this to a insect bite that my son had & it helped dry it up. So other than the slight stinging when first applied – to cuts only – this is a great product.
The ZonePerfect Greek Yogurt Bars are full of protein to help keep you in your zone throughout the day. I'm not a fan of protein bars but I wanted to see if the greek yogurt covering would help with the flavor. I have to say, I didn't mind it all that much. It was actually more enjoyable than other protein bars I've tried. It definitely kept me full until lunch time, which is a plus. You should give it a try if you love protein bars & greek yogurt.
The UrgentRx Fast Powder are small enough to fit in your pocket or wallet & are fast acting flavored powder medication that gives you instant relief without needing water or waiting for it to kick in & work. It didn't take long for it to work & the flavor wasn't that bad so yes, I would highly recommend these babies – they definitely do what they're supposed to do.
The Vitamin Shoppe Garcinia Cambogia is a weight management product that's been getting a lot of buzz lately. Garcinia Cambogia is a fruit native to Southeast Asia, India & West Africa & helps support appetite control. I've been using it for two weeks already & it definitely helps. I haven't been snacking a lot like I used to lately. With the Holidays coming up with all the dinners & goodies, these are sure to come in handy.
Nonni's THINaddictives are chewy, crunchy cookies loaded with cranberries & almonds & is a satisfying treat that you can feel good about – it's only 100 calories! They look like biscotti but are softer & thinner. Surprisingly good & even my son loved them. For only 100 calories a pack, these are great little snacks to have around.
I'm glad to have been able to review this VoxBox. I was able to try out some great products that I otherwise would have overlooked. They're all worth trying out!