Disclosure: I received product for free to review as part of the Brew Over Ice campaign. However, all opinions are 100% mine. 
If you're a big K-Cup fan, you might have seen the above seal on some boxes of your favorite brands. Brew Over Ice lets you brew your favorite beverages over ice – letting you enjoy an iced coffee or iced tea at the touch of a button!
I don't know about you but during the Summer, I tend to reach for ice cold drinks. I live in the South & the sun doesn't have to be out for the humidity to make you feel 5x times hotter than you should so it's rare for me to have a hot drink in my hand. So obviously, you know I love my Iced Tea & Iced Coffee to help keep me cool & keep me going through the day.
So when I was asked if I wanted to review the Snapple Peach Iced Tea, The Original Donut Shop Sweet & Creamy Regular Iced Coffee & Vitamin Burst in Strawberry Pomegranate & Brew Over Ice, of course I said YES!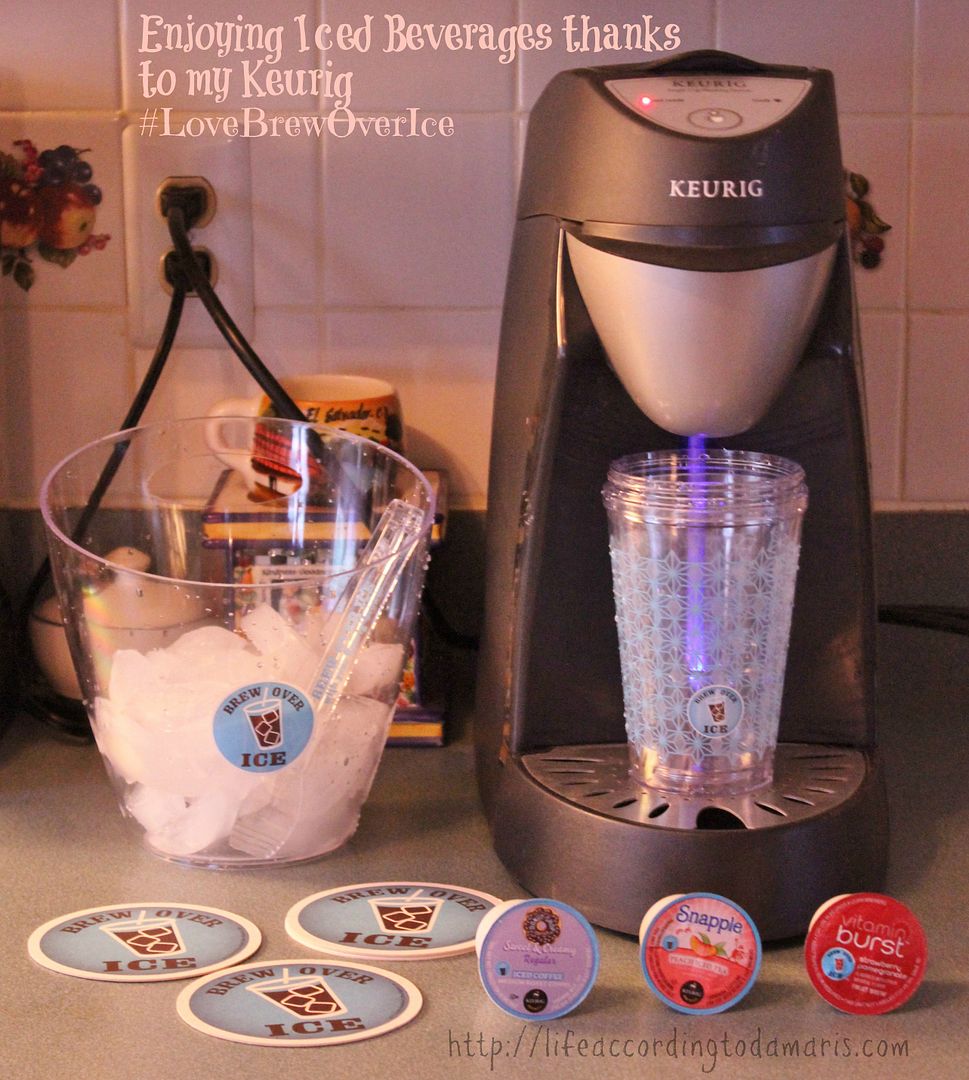 The Vitamin Burst, my husband tried out after coming home from the gym. It's high in antioxidant vitamin C, naturally sweetened – no artificial colors or flavor & Caffeine-free. He loved it but I asked him to let me try some before he finished it. I tasted the strawberry flavor more than anything but it wasn't overpowering at all. Tastes kind of like one of my other favorite fruit drinks but not overly sweet. It was really good! Kinda sad I had only had this one sample to try out but now that I now how delish it is – it's definitely going into my K-cup collection.
Next up, I tried the Snapple Peach Iced Tea….or my son did because he only let me take a sip before taking it away from me. If you love Peach Iced Tea, this is worth giving a try. I enjoyed it & my son definitely did.
Both of these are delicious for any time of the day. And now ladies & gents….on to my favorite!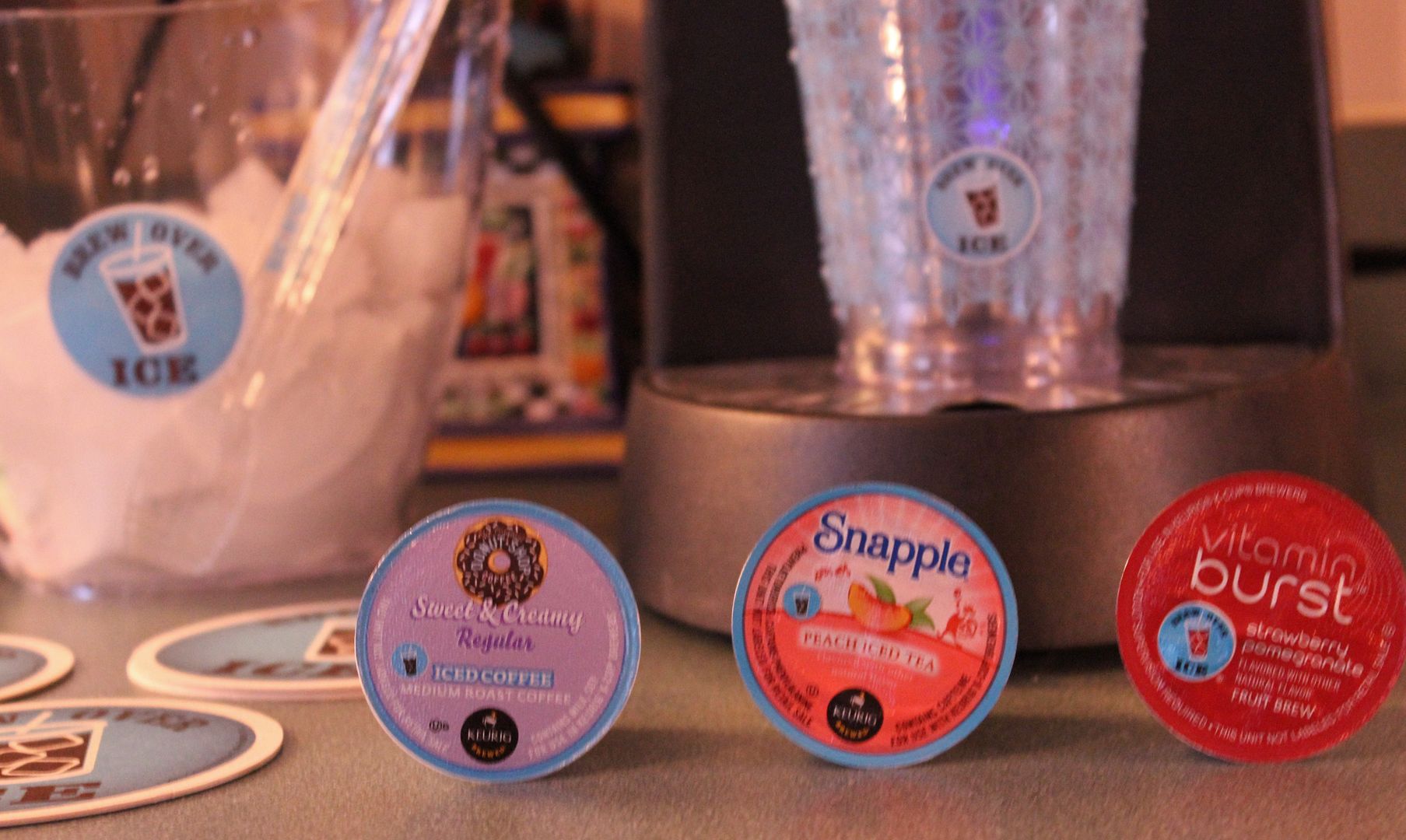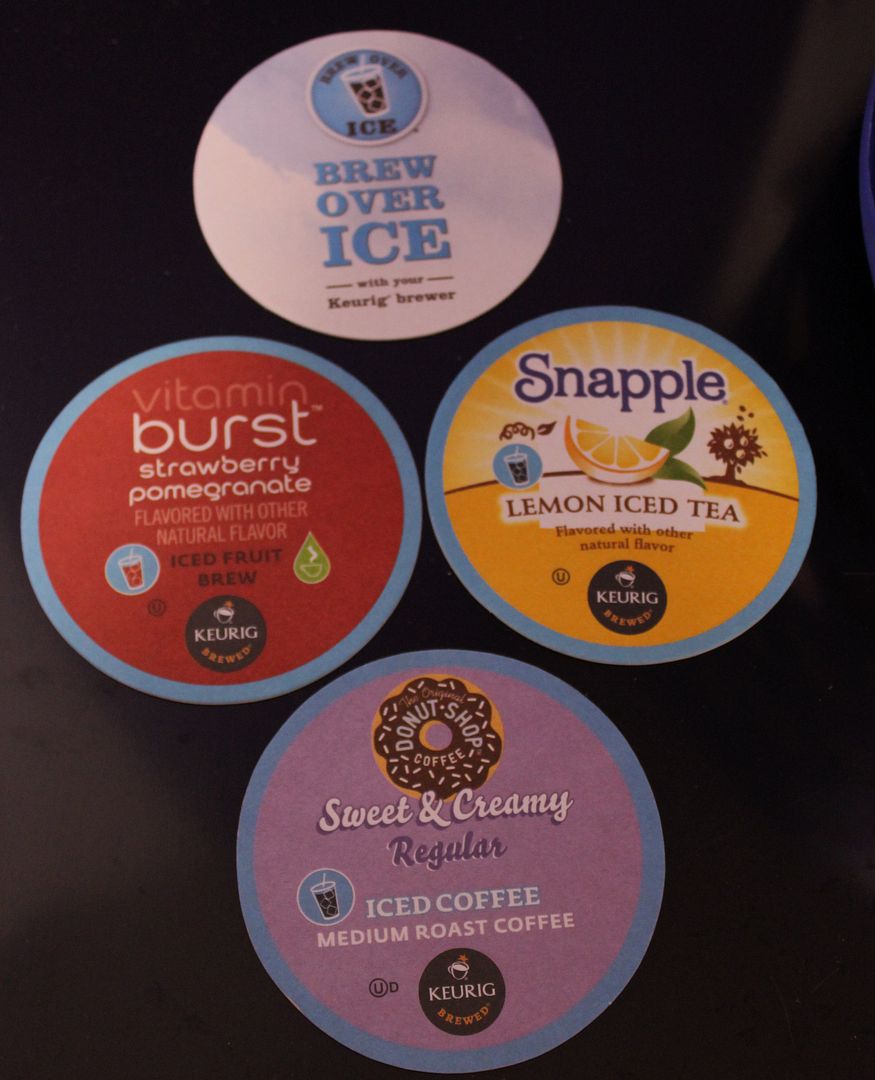 My husband & I love, love, loooove the Original Donut Shop Sweet & Creamy Regular Iced Coffee K-cups so much – we went out the same day & bought a box. My husband loves to make these hot but I of course, prefer it Iced. It's delicious either way & the best part? They're perfect as is – no milk or sugar needed. Seriously, we are obsessed! x_x
I'm so glad I was able to sample these. SO yummy! And now you can try them out too! Enter to win 3 Brew Over Ice K-Cup® samples, 1 Brew Over Ice tumbler, 4 Brew Over Ice coasters and 1 Brew Over Ice light-up ice bucket with ice tongs by entering to win BELOW!
Not only can you enter our Cool giveaway but you can head on over to enter the "Brew Over Ice Sweepstakes" at http://www.brewoverice.com/ for a chance to win $10,000! Yep, $10,000! And if you're a K-Cup lover or can't wait to see if you won the prize pack to try these K-cups for yourself, you can download a $2 off coupon at http://www.brewoverice.com/coolwaytobrew & while you're there, check out the Brew Over Ice video. You can also connect with Brew Over Ice on Facebook & Twitter.
So, what are you waiting for? Enter to win below & good luck to everyone who enters! 😀
[ GIVEAWAY IS OVER ]