Disclosure: I participated in a campaign on behalf of Mom Central Consulting for Air Wick. I received product samples to facilitate my review and a promotional item as a thank you for participating.
Anybody who knows me knows I love to clean & to have everything sparkly & smelling good. Another thing I'm known for is my love for limited edition things – I stock up but I have to admit that I go through a withdrawal until they come out again. -_- But luckily, there's always a new product that I try out & end up loving anyway. The Air Wick National Parks Collection is one of those products. As a proud supporter of the National Park Foundation, Air Wick developed the scents inspired by popular National parks.
The limited edition collection was made by fragrance experts who spent countless hours creating the perfect harmony of fragrance notes representative of the natural elements found in these national parks and pays homage to Air Wick's  "The  Craft  of  Fragrance" creative platform.
The collection includes scented candles, freshmatic auto spray refills, scented oils and reed diffusers & they come in the six new fragrances below:
Grand Canyon: Be awestruck by the breathtaking majesty of Grand Canyon National Park and discover the subtlefloral notes of delicate cactus blossoms carried in the warm summer breeze.
Virgin Islands: Find yourself in the idyllic paradise of Virgin Islands National Park and uncover the delightful notes of tropical plumeria and sweet honeysuckle.
American Samoa: Explore the lush paradise of American Samoa National Park to experience the sweet refreshing notes of native coconut and island palms.
Denali: Seek renewal in the sun-drenched valleys of Denali National Park to breathe in the clean notes of pure cotton grass and fresh spring air.
Gulf Islands: Bask in the fragrant scents that take you to the Gulf Islands, rich in white sand beaches and seashores that evoke sun-drenched sweet notes of a summertime paradise.
Hawai'i: Escape to a tropical island sunset at Honokohau National Historical Park and savor the unspoiled notes of exotic papaya and hibiscus flower.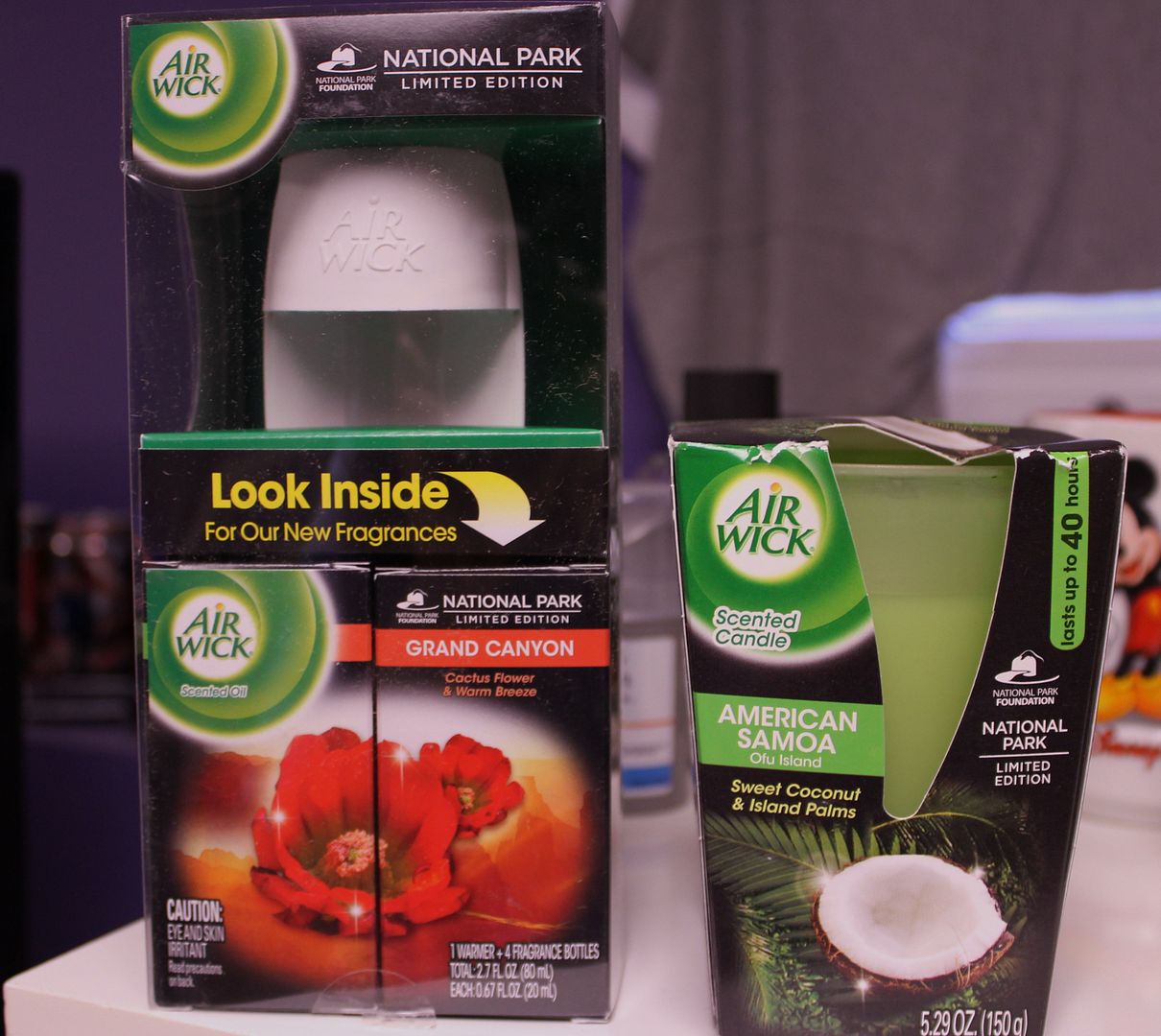 I was able to review the scented oils – which included 1 warmer & 4 fragrances and the American Samoa candle. I was so happy to know that the scented oils came with 4 different fragrances in the package so I could try out which one I loved the best. I'm currently using the American Samoa scented oil because when I use it with the candle, the room just smells heavenly without being overpowering – which is a good thing because my husband & I are sensitive to overly strong scents. The best part about this Air Wick collection is that it's affordable! I didn't cringe at the price when I went to go stock up on refills.
I had saved some previous Air Wick warmers so I have one of these babies in each room. They even have the basement smelling decent for once! lol. We love this collection – it's affordable, lasts, and most importantly, they all smell great.
If you love trying out new products, you should give this collection a try! As a bonus, a portion of the proceeds from The National Parks collection will go to the National Park Foundation, which is the official charity of America's national parks. This collection is available in stores now. For more information about Air Wick, be sure to check out the Air Wick website or you can connect with them on the Air Wick Facebook page. 🙂